IT'S TOUGH enough getting to the top of your chosen career or sport without dissenting voices placing unnecessary obstacles in the way.
Just ask Philomena Dexclyn Siar (main pic) who managed a gold medal at the recently concluded 55th Asian Bodybuilding and Physique Sports Championship in Nepal.
Despite being a late starter, the Bidayuh lass has made tremendous leaps in the sport since venturing into the world of competitive bodybuilding in her mid-30s.
She was placed last in her debut competition in 2018 but bagged a silver medal at the 16th Southeast Asia Bodybuilding and Physique Sports Championships in Yangon, Myanmar just a year later.
She has been faced with objections from family members who questioned the wisdom of her entering a male-dominated sport. She said there was a skewered view that female contestants would "lose their femininity" by engaging in the strenuous workouts required to get into shape for competitions.
Keen to reiterate her belief that sport is an indispensable tool for national unity, Philomena hopes her success will encourage more women to take up body building.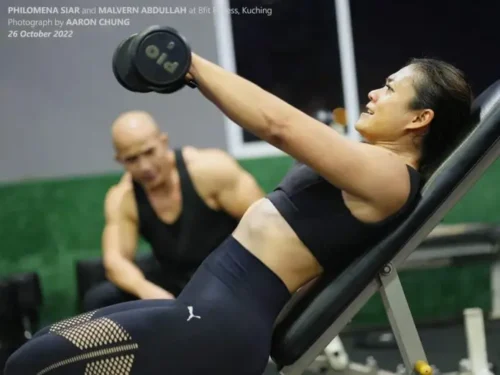 'Sexy' sporting attire
"We come from many backgrounds, races and religions but when we stand there representing the country internationally, we do not think about any of that. We are Malaysian," the 40-year-old Sarawakian told Free Malaysia Today (FMT).
The question arises when the ultra-conservative faction will take issue with Philomena's sporting attire. Because of the very nature of the sport which is to display one's physique, both male and female contestants often don extremely revealing attire to fully show off their immaculately sculpted bodies.
The overriding fear is the so-called green wave taking over the national narrative and making certain sports such as diving, swimming, gymnastics and of course body building no-go zones for athletes of a certain faith.
Will Malaysians of all races also be banned from competing in these sports simply because the attire offends these ultra conservatives and thus not be allowed to represent the country?
Malaysians are mature enough to differentiate between 'sexy' and 'sporting' attire. While some of the latter may be revealing, it is not intended to titillate.
Athletes who make sacrifices to represent the country should be encouraged and not be scorned for their sporting attire. – Sept 19, 2023
Main pic credit: Borneo Post