THIS is the season for all fans of the king of fruits to rejoice for the price tag of the thorny fruit is expected to dive to an affordable level.
The good news comes as China's Hawaii – the Hainan Island – is anticipating its first harvest of Chinese durians this month.
After four years of growing durian trees on the island which is about 47 times the size of Singapore, some 2,450 tonnes of Hainan durians are set to make their debut in the market, according to local news reports.
Back home, with simultaneous production flooding the market and export plans hitting a snag, it is inevitable for coveted durian and some famous clones experiencing a drop in price.
It is therefore unsurprising for grade A Musang King to humble itself to a price range of RM20/kg and RM30/kg from having commanded a princely price tag of RM50/kg to RM70/kg previously.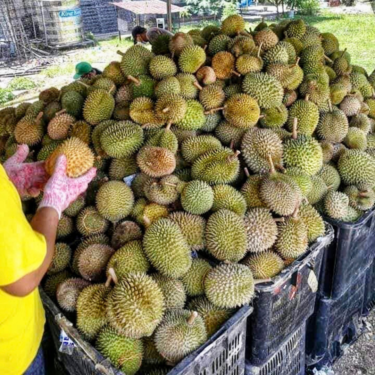 Kuantan fruit dealer Mohd Kamarul Hafsan, 37, told New Straits Times recently that these thorny treasures are ripening simultaneously, compelling growers to act swiftly to avert a tragic fate of spoilage.
Stating that his supplies arrive daily from Johor and Maran, the juicy treasures include the kampung varieties and renowned clones such as Musang King, Kunyit, Udang Merah, IOI, Kasak Merah and Tupai King.
"Thanks to the combination of affordable farm prices and temporarily being unable to export, I have the pleasure of offering the king of fruits at a mere RM6/kg to RM30/kg," revealed Kamarul.
"Fans of the king of fruits will be able to savour the clones this season, when before they had to forego due to the kayangan (exorbitant) prices."
Over in Penang, durian seller Tan Chee Keat told The Star that lovers of the king of fruits can expect a bountiful harvest in 2023 with prices cheaper than before,
"The durian season is going to be long. Some orchards may have the fruits until late October," he projected, noting that due to smaller harvests in the past years, the price has gone up considerably.
"Since it will be a good harvest this year, we can reduce the prices. Durians like the popular Musang King can fetch between RM20/kg and RM30/kg compared to RM40/kg previously," added Tan who owns a 90ha farm in Balik Pulau.
With that, it's little wonder that food review blog KL Foodie has posted alluring photos of durian sold at Durians Atok at Lot 3718-A, Jalan Kampung Batu 7, Kampung Jln Kebun in Shah Alam, Selangor.
"This spot in Shah Alam sells a pack of durian for only RM4.99," shared KL Foodie. "Durians Atok offers packs of durian at low prices so that everyone can satisfy their durian cravings with this Menu Rahmah (offer). Other than durian, they also serve cendol durian as low as RM4!" – June 9, 2023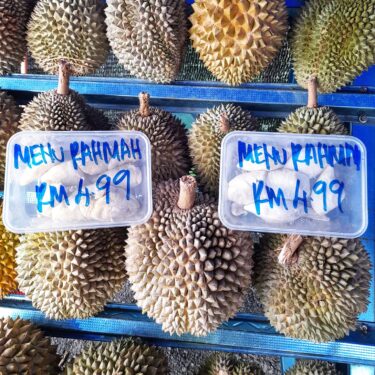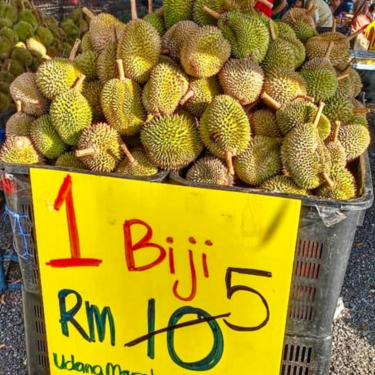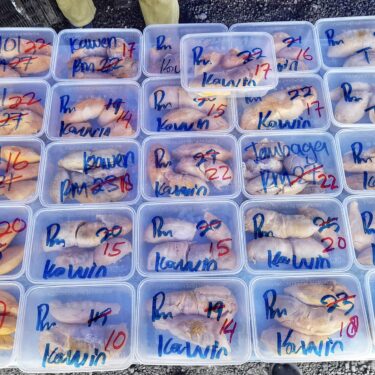 Pics credit: KL Foodie