SELANGOR ruler Sultan Sharafuddin Shah has revoked and cancelled with immediate effect the honorary titles conferred by him upon former prime minister Datuk Seri Najib Razak and his wife Datin Seri Rosmah Mansor.
Selangor state secretary Datuk Haris Kasim said this was decided following Najib and Rosmah's respective convictions and sentences, and in Najib's case, the conviction and sentence being upheld by the Federal Court.
In a statement, Haris said the decision was reached after Sultan Sharafuddin consulted members of the Selangor Royal Council on the matter during a special meeting of the state royal house at the Alam Shah Palace in Klang today.
"The revocation takes effect on Sept 12, 2022, in accordance with His Majesty's prerogative powers under Articles XXXVII and XXXIX of the Laws of the Constitution of Selangor 1959 as well as related order statutes and conventions practised in Selangor," he added.
In 1992, the Selangor sultan bestowed upon Najib the Darjah Kebesaran Dato' Paduka Mahkota Selangor (DPMS) Kelas Kedua, which carries the Datuk title.
In 2004, the Pekan MP received the Keahlian Darjah Kebesaran Seri Paduka Mahkota Selangor (SPMS) Kelas Pertama, which carries the Datuk Seri title.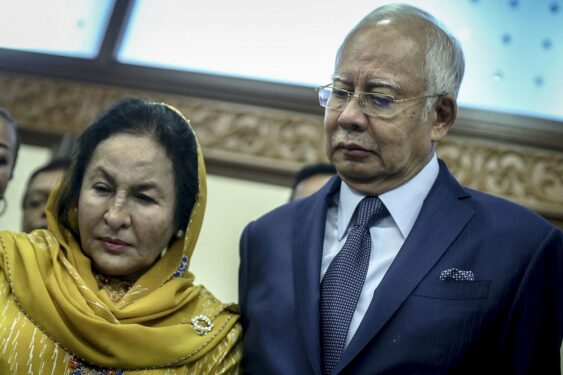 Rosmah, on the other hand, was bestowed the Keahlian Darjah Seri Paduka Mahkota Selangor (SPMS) Kelas Pertama in 2005. The order carries the Datin Paduka Seri title.
All three titles were suspended by Sultan Sharafuddin on May 6, 2019, after Najib and Rosmah were both charged in court over multiple criminal offences.
"Still Datuk Seris"
Negeri Sembilan also stripped their honorary titles in 2018.
However, as the couple still holds numerous Datuk Seri titles from other states, they remain as Datuk Seris.
On Aug 23, a five-member apex bench rejected Najib's final appeal in his RM42 mil SRC International corruption case and upheld his RM210 mil fine and 12-year jail sentence.
He is currently serving his sentence in the Kajang Prison.
On Sept 1, the Kuala Lumpur High Court found Rosmah guilty over her RM1.25 bil solar power corruption case and sentenced her to 10 years in jail and an RM970 mil fine.
The former first lady has not been imprisoned as the court stayed the sentence pending disposal of her appeal of the ruling.
Meanwhile, in a separate statement, Sultan Sharafuddin called on the public to respect the rule of law and the independence of the judiciary.
He noted that the Federal Constitution guarantees that all citizens are equal in the eyes of the law and as such, everyone is accountable to the same set of laws regardless of who they are.
While the statement did not refer to any issue in particular, it follows intense criticism of the judiciary by UMNO top guns leading up to and after Najib was jailed.
The state ruler also echoed Chief Justice Tun Tengku Maimun Tuan Mat's recent call for people not to make unfounded allegations when they do not understand the facts and reasons behind the judgment of a case. – Sept 12, 2022
Main pic credit: Selangorkini