FORMER prime minister Datuk Seri Najib Razak's lead counsel Tan Sri Muhammad Shafee Abdullah has told the Kuala Lumpur High Court today that his client's health condition is akin to a "time bomb" due to the multiple new ulcers discovered in his stomach recently.
Last week an aide to Najib – who is affably known by his moniker "Bossku" – said the Pekan MP underwent a scope procedure where the doctor discovered the ulcers. While it has been a recurring problem for the past 15 years, new ulcers were discovered.
"Najib has a history of stomach ulcers and about three months ago his condition deteriorated to critical levels," Shafee was reported as saying by Malay news portal Utusan Malaysia.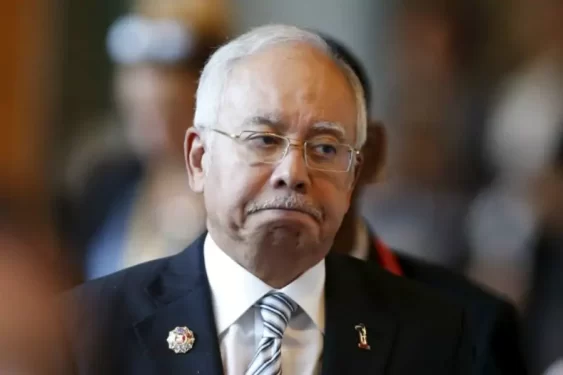 "Najib's hemoglobin (red blood cell) levels have dropped to very low levels. He was a walking time bomb and he would have developed a complete stroke but they (the doctors) had managed to address the situation and had to pump in five litres of blood."
Shafee added that since Najib's imprisonment, doctors have found numerous new ulcers after the former prime minister complained of discomfort in his abdominal area.
"Some of them bled when touched. For that reason, he has been tested to ensure that his high blood pressure has got nothing to do with that, but perhaps a mere confusion of medicines," the lawyer explained.
Shafee said this during the open-court mention of the RM2.28 bil 1Malaysia Development Bhd (1MDB) corruption case before trial judge Datuk Collin Lawrence Sequerah.
He further elaborated that the stomach ulcers could be one of two possible reasons for Najib's current high blood pressure, the other being a change from original to generic medicines.
During the open-court mention Sequerah had asked Shafee if his client's blood pressure condition is a direct result of the medicinal changes to which Shafee had responded in the affirmative.
"(Najib) has been given the same medicines but while there are 'original' medicines, there are also 'generic' ones which are not as effective as the 'original'," Shafee was reported as saying.
"Now that he has been given the 'original' medication his blood pressure has gone down but still not at satisfactory levels."
In the ongoing trial, Najib is facing four charges of abusing his position to obtain bribes totalling RM2.3 bil from 1MDB funds and 21 charges of money laundering involving the same amount.
The former UMNO president is currently serving his 12-year prison sentence after the Federal Court upheld his conviction on Au 23 in all seven charges in his SRC International Sdn Bhd corruption case.
In view of his 'deteriorating' medical condition, the court has been vacated today and tomorrow (Sept 15) to make way for Najib who is on medical leave for two days following his admission to the Kuala Lumpur General Hospital (HKL) yesterday (Sept 13).  – Sept 14, 2022
Main pic credit: The Edge