Letter to Editor
ALLOW me to be frank that this public opinion is consistent to the current sentiment that until one's court cases are disposed of, he or she should refrain from standing in any election.
In the case of UMNO president Datuk Seri Ahmad Zahid Hamidi, he was recently acquitted of 40 charges of receiving bribes from a company to extend its foreign visa system (VLN). The Attorney-General's Chambers (AGC) has since appealed against his case.
However, he still has another case involving the Yayasan Akal Budi which is on-going. If found guilty before the nomination date, he would be disqualified.
If he is guilty as charged after the nomination date, his candidacy would still be valid and he can stand for the forthcoming 15th General Election (GE15).
If he wins but found guilty, he will still not lose his status as MP unless he has exhausted his appeal process with the Federal Court rule that he is guilty.
Strange but true
"A convicted MP does not automatically lose his seat. He must not only be convicted but must also be refused a Royal Pardon. But such a person loses his right to contest in an election," a senior lawyer explained to me.
The irony in the system in Malaysia currently is such that if the guilty party immediately applies for royal pardon, he will still retain his status as MP. Such is the case with former prime minister Datuk Seri Najib Razak.
This is not the same in the case of someone who has stolen a loaf of bread or a few tins of Milo or some vegetables from the supermarket. The person will be charged and if found guilty, will be thrown into prison immediately regardless of whether there is an appeal to the higher court.
In short, the system is designed by the lawmakers in their favour. The huge amount of RM40 mil entering into Najib's account is – technically – not defined as theft which criminal justice would have to deal with.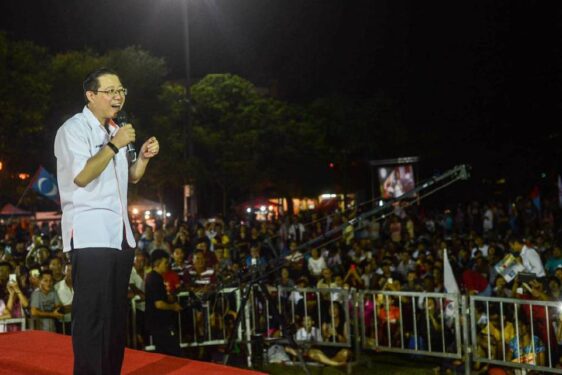 Should politicians with court cases contest?
Najib is trying to contest in the GE15 for his Pekan seat. It would be a mockery to our justice system if he is allowed to contest or even speak in any ceramah whether via Zoom or physical attendance even under the watchful eyes of the prison wardens.
Recall that his attempt to attend the last parliamentary session has been denied by the Prisons Department.
But should politicians contest in an election if their court cases are still not dispensed of? Using the court case of DAP chairman Lim Guan Eng, I will attempt to show why they should not.
Lim's case has begun. The GE15 is just round the corner. As mentioned earlier, he can still be nominated and even contest in the GE15 until he has exhausted his court process and denied a royal pardon. Thereafter, a by-election would have to be called.
But should Lim stand for the election? Technically, he can. But DAP is supposed to be on higher moral ground compared to Barisan Nasional (BN) and UMNO.
So, it would be interesting to see whether Lim would opt out of the GE15 or he would still go for it with the hope that Pakatan Harapan (PH) would form the next government.
Lim could offer his seat to another potential candidate in party and campaign for the new face. DAP would still not lose the seat if the people still vote for PH. There are no reasons why DAP would not win if Lim stays out of the snap poll.
Instead, if he stands for the election, he would deprive others of an opportunity to become an elected member of parliament. As it is, there are too many competitors for the same seats held by DAP.
If found guilty eventually – and put behind bars like Najib – wouldn't Lim deny his constituents of an MP? It is the same for constituents in Damansara who want to see their MP Tony Pua on the ground when there are issues affecting the people.
The constituents would like to see their MPs with them on special events but if found guilty in his corruption case, Lim – like Najib – would be put behind bars. There is no way the prison wardens can accompany him on his frequent public appearances.
Better not contest
Therefore, court cluster MPs from both BN and PH should stay out of GE15 since there is this possibility that they can be put behind bars. This should be the case until some new laws are passed to address the irony that makes our country a laughing stock.
The current legislation has its loopholes which someone like Najib will try to exploit.
Even if BN fails to set a good example, PH should. Lim would earn people's respect. I think he should focus on his court cases first.
Perhaps after the judge has acquitted him, he would have more free time to restore public confidence in DAP by being on the ground, especially in constituencies where his party MPs fail miserably.
I agree with the senior lawyer who gave a good conclusion: "As a matter of convention, a person who is facing a serious charge such as bribery or criminal breach of trust (CBT) should not contest in an election. It is better to amend our Federal Constitution to include a provision disqualifying them." – Oct 20, 2022
Stephen Ng may still vote for Pakatan Harapan (PH) in the 15th General Election (GE15) because of what the coalition stands for. But he sees himself as 'the salt' to prevent further rot of PH or for the coalition to turn into BN2.0.
The views expressed are solely of the author and do not necessarily reflect those of Focus Malaysia.