WITH no participation whatsoever in the Cabinet line-up of the unity government, one wonders if communal political parties MCA and MIC should emulate the polar bear by going to hibernation to re-group, do soul-searching to re-discover their relevancy and come back stronger for the 16th General Election (GE16) slated for 2027.
In so doing, both parties should take a step back by declining the goodwill gesture of BN chairman Datuk Seri Ahmad Zahid Hamidi to allocate "winnable" seats for them to contest in the upcoming state polls.
If ever the outcome of last November's GE15 can be an indicator, both parties fared miserably with MCA only won two of the 44 contested seats while MIC was victorious in one out of the 10 seats it contested.
In all fairness, even BN big brother UMNO (which is shrouded in graft-related controversies) has a mountain to climb in the upcoming six state elections as race-based politics begin to lose their lustre big-time.
Past glory is by no means a measurement of today's success as their loyal supporters walked out of them by preferring the more multi-ethnical composition of alternatives in the likes of PKR and DAP which currently spearhead the Pakatan Harapan-Barisan Nasional (PH-BN) alliance.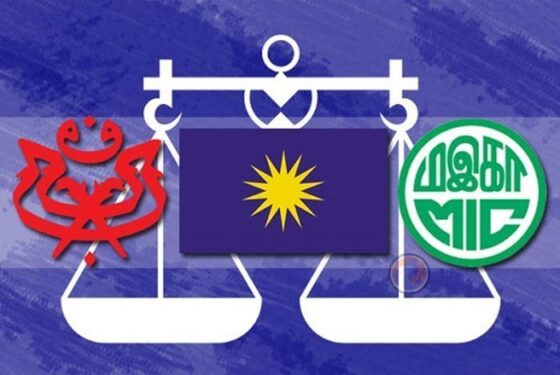 While MCA has yet to make its stance clear, its Indian brethren has expressed the likelihood of sitting out of the state polls.
Nevertheless, the still largest Indian-based party in the country has pledged to render support to the BN election machinery at the looming state polls, divulged a highly placed party source to news portal Xklusif.
The sit-out is considered historic by political analysts as this is the first occasion that the party, one of the long-serving members of the BN coalition, has decided not to contest any seat in the state elections.
"Yes, the party has decided not to go into the state elections. We will let other parties in the BN and in PH contest in the coming polls," the source revealed. "However, we in the spirit of BN will continue our support BN coalition candidates of during the elections. We will not forsake our comrades in the BN."
If the speculation is indeed true, this may signify MIC's readiness to stand on its own two feet by moving away from the clutches of UMNO which is seen as too dominant in the BN.
In the spirit of the newfound PH-BN camaraderie, would MCA follow the footstep of MIC to give the upcoming state elections a miss by focusing on 'rejuvenating itself' for GE16? – July 1, 2023