AS his supposed 'predecessor' is walking tall by virtue of being named the BWF Hall of Fame Inductee 2023, one can understand the mounting pressure that is building in national men single's ace Lee Zii Jia as he tamely crashed out – yet again – in a first round encounter at the Kapal Api Group Indonesia Open 2023 yesterday (June 14).
Hailed as the successor to his surname sake Lee Chong Wei, the Kedah-born player is now contemplating a hiatus from the game until he is able to reignite his passion after going down 21-17, 21-13 to India's Lakshya Sen.
"Lakshya played very well today," a downcast Zii Jia told the BWF World Tour newsletter. "I think for now I will probably temporarily quit badminton. I don't know how long I will take but I will quit badminton for a while, until I get motivation again. I will take a break and get rest for a while."
The 25-year-old independent shuttler's future is certainly hanging in the balance for now as he is not thinking of qualification for Paris 2024 just yet.
"Maybe I will stop playing tournaments – I don't know for how long. I have been considering this for quite long. It's too much for me on court, I can't concentrate 100%," he revealed. "It will be good for me to take a break. The priority for me is to find my passion on court. I did well at the Sudirman Cup but I haven't done much different after that."
Badminton fans who closely follow Zii Jia's progress in recent times would probably not be surprised or taken aback by his decision given the myriad of issues – both in-court and out-of-court – that the 2021 All England Open champion has to manage since leaving the Badminton Association of Malaysia (BAM) to chart his own destiny.
Below are some food for thought that badminton fans leave behind on Twitter for Zii Jia whose world ranking has dipped to No.11 from an all-time best of No. 2 which he had maintained from Oct 25 last year till Jan 17 this year:
Karim A. Bachik (@karimbachik): If you cannot be like LCW (Lee Chong Wei), be like Lin Dan. No need to enter all tournaments. But you explode when you enter. You mustn't be giving excuse of fatigue or injury.
Ben (@taukeleh): He was not getting his rhythm right; too many unnecessary matters bothering him being an independent player especially those non-badminton related issues … I believe during the Sudirman Cup when he was with the national team, he could focus as many other things were well taken care of."
milasiju (@milasiju2): Yes good decision to take a break! We always want to see you playing fiercely and when that spark is gone, it was just your body on the court but your soul (is) elsewhere … So we hope u find back that (fierce) version of you! No matter win or lose, we just want you to find that (rhythm) back!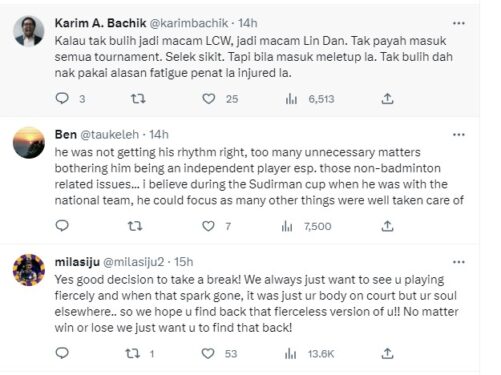 NurAaiKha❤️🇲🇾🌺 (@ainaKhairunnisa): Good for Zii Jia. By right, he should have taken a break since last year to calm himself down. Hope he's able to gather back his spirit and enthusiasm in badminton. Whether to skip the (Paris) Olympics or otherwise, let's hope for the best for Zii Jia so long as that doesn't jeopardise his mental and physical health.

solero (@mrsolero_solero): Isn't he himself who said that he doesn't need a coach as he can train by himself? No worries. Just embark on the healing path and get back your lost spirit.

ming3 (@setiaalam3): Just get a good coach to begin with. It is a must do. – June 15, 2023