IT is said that singing solo has some distinct and non-negligible advantages compared to a duet or singing in a group.
If one sings solo, he can call the shots at will without having to consult his partner or other team members. Obviously, he has all the freedom to sing as he pleases – no worries whatsoever about the concept of harmony.
At the same time, if he falters, he has nobody else except himself to blame.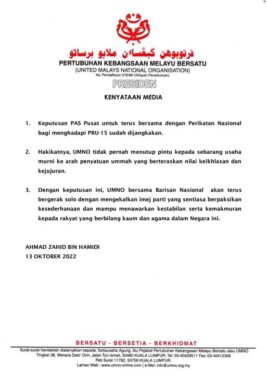 Such is the risk and reward factor that comes with UMNO/Barisan Nasional's (BN) latest decision to go solo in the 15th General Election (GE15) following PAS's decision to stick with Perikatan Nasional (PN) for the forthcoming nationwide polls.
This follows the decision by PAS to snub UMNO/BN which did not come as a surprise, according to UMNO president Datuk Seri Ahmad Zahid Hamidi who is also the BN chairman.
"With that, UMNO and BN will go solo by maintaining the party's image that had always focused on moderation, and its ability to restore stability and prosperity for the people of various races and religions in this country," he said in a three-paragraph statement yesterday (Oct 13).
Recall that UMNO had previously issued PAS an ultimatum by setting three conditions if the latter wanted to maintain its alliance with the former under the Muafakat Nasional (MN) banner, one of which is to sever ties with PN.
PAS and UMNO formalised MN in September 2019 when both parties were part of the federal opposition. Following the collapse of the Pakatan Harapan (PH) Government in February 2020, PAS joined Bersatu to form the PN coalition.
As PAS resolved to strengthen cooperation within PN to unite the ummah (Muslim solidarity), PAS vice-president Datuk Idris Ahmad has recently warned UMNO that its choice of going solo in GE15 might backfire as evident from the party's fall from power in the 2018 polls.
While it is very much UMNO's prerogative to go solo, such a move may be – strategically speaking – advantageous to PH if the coalition is able to play its cards right to capitalise on the breaking up or splitting of Malay votes.
After all, former UMNO vice-president Tun Musa Hitam has recently stated that the three dominant Malay-Muslim parties, namely UMNO, PAS and Bersatu need to unite as a single political entity to champion the rights of the Malays and Muslims.
In the wake up to so much public anger levelled over UMNO's insensitivity to push for an early GE15 which has to coincide with the northeast monsoon season, PH could leverage the UMNO-PAS-Bersatu 'disunity' factor to its advantage by rallying support not only from fence-sitters but also UMNO members who are disgruntled with the party's 'arrogance' in going solo.
In fact, the idea of UMNO going solo is not an entirely new concept given that UMNO Supreme Council member Datuk Dr Mohd Puad Zarkashi had suggested as early as January this year that it would be better for UMNO to move forward alone than to be with PN "because the coalition lacks political integrity".
"Actually, PAS is the one that weakened the Muafakat Nasional (MN) coalition when it joined PN," rationalised Puad.
"PAS was suitably impressed after its leaders were offered ministerial posts (by PN) till it was even willing to sideline two or three of its top leaders who are pro-MN."
Puad went on to describe PAS as "a duck with both legs broken" if it continued to work with Bersatu which he claimed was dominated by "political frogs".
"Actually, it is difficult to remain friends with PAS," he said, noting that PAS president Tan Sri Abdul Hadi Awang had also claimed that the UMNO-backed BN had now become "irrelevant".
Well, with so much ill-feelings in the air among UMNO, PAS and Bersatu, it will be a very big loss indeed for PH if the coalition is unable to exploit the opportunity that presents itself. – Oct 14, 2022