WHAT would the late Anita Mui say about the movie, "Anita" if she were still alive today?
Would the Hong Kong Cantopop diva give a standing ovation to the performance of Louise Wong who portrayed her in this biopic?
Whatever it is, one thing is certain. I would definitely give the movie a near perfect 5-star rating.
As a die-hard fan of Anita Mui, I used to collect all her song albums and movie posters, and even impersonating her on stage.
So obviously, I was all excited and waited in wild anticipation for the movie debut after I saw the trailer few months ago.
We all know Anita Mui was a consummate artiste with the ability to host the most number of concerts and had won multiple awards in singing and acting.
And her skills went as far as dancing and even emceeing many prestigious events.
With an illustrious career spanning over three decades, it made me wonder how did the producer manage to put all the events and chronology of her life into a two-hour and 17-minute movie?
Well, famed director, Longman Leung and the cast didn't disappoint me.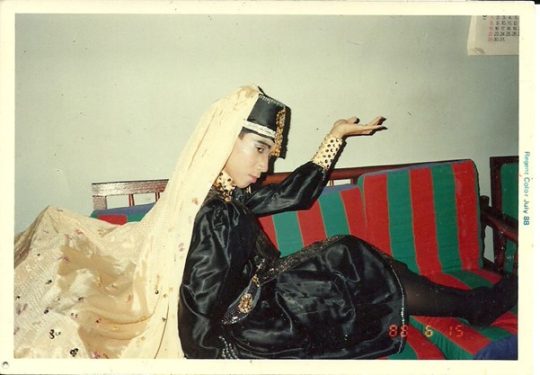 The movie, "Anita" has brought this diva to life with superb acting by Louise Wong (Anita Mui), Louis Koo (Eddie Lau) and Terrance Lau (Leslie Cheung), brilliant cinematography, art direction and script.
The movie kicked off with a glimpse into her final concert where she was about to step on the stage. Then we were transported to the nostalgic past of 6-year old Anita and sister, Ann Mui gracing the stage in Lai Chi Kok Amusement Park.
The plot thickened as she grew up and rose to stardom after winning a TVB singing competition against 3,000 hopefuls.
I could easily relate to the scenes of her songs topping charts and ultimately, winning the prized acting award for her role as a courtesan in "Rouge".
The movie had many scenes that struck my emotional chord, from her sister's illness, her own diagnosis with cancer to her love story.
Although Anita has everything, fame, talent and wealth, her life fell short of having a successful love life.
And this was echoed in a heart-rending scene in her farewell speech in her last concert.
Anita said tearfully that she had dressed up as a bride in movies but never in real life and therefore, she had accepted this as fate and claimed herself to be married to the stage and music. Emotion welled up within me upon hearing these words.
Like some award-winning movies, "Anita" has its shortcomings too. I personally find Louise lacking the stage presence and charisma much needed in depicting Anita's music video and concert scenes.
It would have been better if Louise could emulate the fluidity of Anita's body and hand movements on stage.
However, for her final concert segment, Louise put her own take of the diva and I could feel the presence of Anita Mui in front of me.
Credit must be given where it is due. Louise is a model and has no prior acting experience. She beat thousands of hopefuls to earn this role.
To be fair to her, she certainly did her best although we know there could only be one Anita Mui.
Experience speaks volumes when it comes to acting. I must say the best acting goes to Louis Koo who brought along his many years of acting experience into this movie as the strict Eddie Lau.
As for props and settings, the movie managed to do justice to Hong Kong in the 80s with perfect cinematography.
We could see buildings, marquees and the historic Lee Theatre blended well to give us that nostalgic era.
However, I still find the make-up department need some schooling. Louise's make-up in the 80s was lacking Anita's thick eye-brow look which was a trend among the women in the 80s back then.
Nevertheless, the movie deserves a thumbs up and Anita has taught us a lesson that no matter how tough life could be, the show must go on. – Nov 22, 2021
Francis Yip is an award-winning writer and HRDF-certified Trainer. He is also the CEO of Franciswriter Dot Com and WORDerful Learning Sdn Bhd and guest lecturer in The One Academy.
The views expressed are solely of the authors and do not necessarily reflect those of Focus Malaysia.