MAINSTREAM Chinese-language daily Sin Chew Daily has berated Education Minister Fadhlina Sidek over her recent statement in the Dewan Rakyat that the government is still not ready to recognise the Unified Examination Certificate (UEC) or to provide allocation for independent Chinese secondary schools.
Appalled by her written response to PAS president and Marang MP Tan Sri Abdul Hadi Awang, the leading Chinese daily said it has good reasons to believe that the issue has yet to be discussed in the unity government's Cabinet.
"But is this the way Fadhlina handled the issue in such a rash manner?" Sin Chew Daily pointed out in its leader page.
"As DAP's MP for Cheras Tan Kok Wai has said, the minister lacks experience and sensitivity, and her written reply was believed to have been copied and pasted by her official from the script inherited from the previous administration."
Added the Chinese daily: "If the minister is inexperienced, has not carefully read the election manifesto, and is using a copied script that she herself might not have browsed through before sending it out, then what is the point of changing a new government?"
Sin Chew Daily further questioned the promise of the unity government to accord equitable treatment to all Malaysians irrespective of race and political affiliation.
"We believe minister Fadhlina indeed has some explanation to do. While we understand that UEC recognition could be very tacky and tough, why the rush to have it squarely denied?" asked Sin Chew Daily.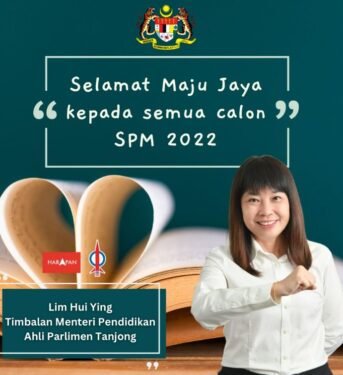 On the issue of allocation, the Chinese daily said thankfully, Fadhlina's deputy Lim Hui Ying has vowed to fight for it alongside the minister and "hopefully, will bring some good news to the local Chinese community soon".
During the last previous Pakatan Harapan (PH) administration, the government provided RM12 mil and RM15 mil for 60 plus two independent Chinese high schools in the country in 2019 and 2020 respectively.
Citing statistics by Dong Zong or the United Chinese School Committees' Association of Malaysia, Sin Chew Daily said the total enrollment for the country's independent Chinese schools in 2022 stood at 79,700.
Hence, if the RM15 mil allocation were to be distributed evenly to all these schools, each of the schools would get RM242,000 or RM188 for every student. Such an allocation will be insignificant for a school that has fewer than 300 students, according to Sin Chew Daily.
"It is our sincere hope that with the hundreds of thousands of graduates and high-calibre professionals these schools have churned out over the decades, the government will give this matter a fairer consideration. We are not asking too much are we?" asked the Chinese daily.
"Lastly, we hope that the minister's remark that the government is not yet ready to recognize the UEC certificate and provide allocation for independent Chinese schools is but an unintentional oversight, and we hope discussions are still open for these issues." – Feb 22, 2023