SINCE the Government is not tackling the matter or making a difference, PKR information chief Fahmi Fadzil has listed seven ways to overcome scammers and assist victims of scams.
An estimated 20,000 people become victims of scams in Malaysia each year, with some RM660 mil stolen by scammers.
"Unfortunately, we have not seen or heard of any steps taken by the Government that can reduce the number of scam cases in our country until today," Fahmi claimed in a statement.
The Lembah Pantai MP noted that there are steps that can be taken by bank account holders to avoid falling prey to scams, such as not clicking links from unverified sources or downloading apps outside of the authorised app stores.
"But the Government, as well as the banks, have a moral obligation to take proactive steps (to curb instances of scams) because these criminal scammers operate on the basis of deception or malicious intent.
"That is why I recommend seven actions that must be taken by the authorities without further delay to assist victims, streamline the system and prevent more from becoming scam victims."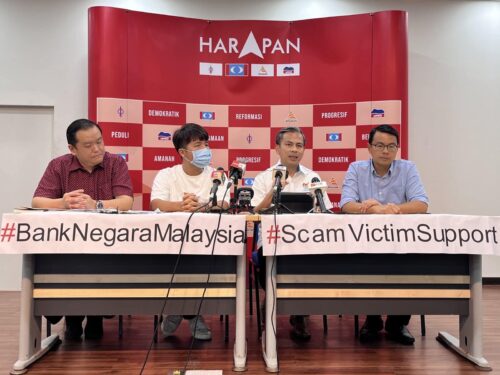 Fahmi first recommended creating a one-stop help centre for scam victims involving related agencies such as the Malaysian Communications and Multimedia Commission (MCMC), Royal Malaysian Police Force (PDRM), Bank Negara Malaysia (BNM), Association of Banks in Malaysia (ABM), Association of Islamic Banking and Financial Institutions Malaysia (AIBIM) and the Attorney-General's Chambers (AGC).
He proposed having at least three such centres in Kuala Lumpur, Kota Kinabalu, Sabah, and Kuching, Sarawak, as well as one multi-agency coordination centre at BNM.
Next, the Government should change the authentication system for online banking from SMS transaction activation codes (TAC) to a more secure and accurate identity system – such as authentications based only on devices that the bank account owner has registered with the bank.
Besides this, banks or financial institutions should make confirmations through call when it involves transactions involving large and/or repeated amounts and for transactions that are out of the ordinary activity of the bank account.
"Set up recovery fund for compensation"
Third, Putrajaya must establish a compensation mechanism such as the recovery fund that is being worked on by the Monetary Authority of Singapore so that victims of confirmed scammers will receive compensation as best as possible.
The Government should also amend related acts like the Malaysian Deposit Insurance Corporation Act 2005 so that Perbadanan Insurans Deposit Malaysia (PIDM) can guarantee or provide insurance and compensation for savings affected by scammers' crimes.
"Fourth, instruct all telecommunications companies through MCMC to make public service announcements through scripted phone calls and scammer dialogues with a warning to ignore such scammer calls.
"Fifth, oblige banks and any other financial institution involved in online financial transactions (for example, e-wallet services) to publish in their respective annual reports the number of scam cases and amount stolen based on police reports.
"This is so shareholders and people know the real situation of each bank or e-wallet and can make wise decisions regarding their savings," Fahmi explained.
Sixth, the relevant authorities should hold urgent discussions with operators of social media platforms that are most often misused by scammers for criminal activities in order to take quick steps to prevent these platforms from being misused by scammers.
Lastly, the Government must immediately identify, arrest and prosecute in court those involved in making scammer calls, harbouring or protecting scammer criminals as well as planning scammer activities.
This includes seeking the cooperation of ASEAN members and Interpol to arrest and extradite criminals in cases of call centres or criminal activities where the scammer is based abroad.
Fahmi said he hopes these seven steps will be implemented soon to help ensure the people's savings remain safe and their trust in the online banking system does not erode. – Sept 20, 2022
Main photo credit: Turlock Journal