AT MORE or less the same time as the RM9 bil littoral combat ships (LCS) fiasco was unfolding into a national issue the scale of the 1MDB (1Malaysia Development Bhd) scandal, there was another mini storm brewing in Malaysia's entertainment scene – that of singer-cum-actress Elyana 'letting fly her tudung (headscarf)'.
This is perhaps a good diversion away from a serious national issue that threatens to impoverish the nation by virtue of allowing corrupt elements to incessantly rear their ugly heads – something which is let unchecked, can trigger a downfall to the degree of making Malaysia the next Sri Lanka.
Interestingly, while secular world politicians and concerned citizens were busy trading barbwires with the powers that be, 'afterworld god-fearing' netizens were busy expressing their disgust over Elyana's action of un-donning her tudung soon after she posted her latest photos without any headgear on her Instagram account.
For the uninitiated, the 35 year-old mother of one girl, Cinta Sumayyah, and one foster boy, Cahaya Ramadhani, started becoming a hijabster since the Ramadhan of 2021 with many netizens linking her action "to seeking forgiveness/blessing to heal her from cancer". She is married to Khairul Anuar Husin since 2010.
On Dec 8 last year, the singer of popular song Kalis Rindu posted on her Instagram that after having battled stage four lymphoma cancer for the past 11 years, she was declared cancer-free.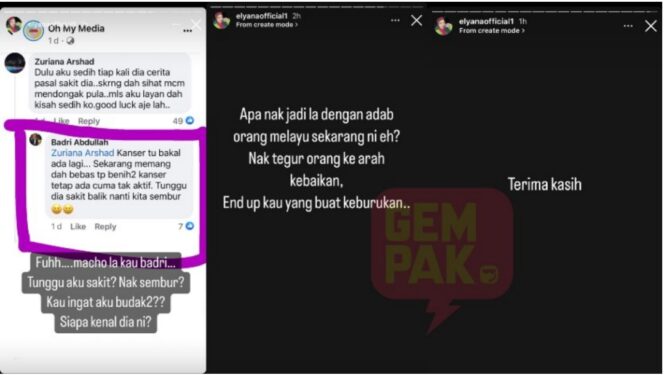 Hurled with condescending remarks by netizens who seemingly forgot to mind their business, a furious Elyana took to social media to claim that "Malays have lost their manners".
"What has happened to the mannerism of the Malays these days? They want to reprimand me towards goodness but they themselves have ended up doing evil deeds," she lambasted critics who chided her for 'leaving her tudung at home".
Even as Elyana decided not to entertain 'spicy remarks from makeshift ustaz and ustazahs (male and female religious teachers), some netizens did come forward to offer their sympathy although they are in the minority.
• "Don't be like this because it's more sinful to God if one chooses to be pretentious. Just be yourself. I love you Elyana" (Jangan macam ini, lagi berdosa kalau kita berpura-pura dengan Tuhan, biar jadi diri sendiri. I love you Elyana.)
• "Whether a decision is good or bad, let the person evaluate himself/herself. There is no point we criticise or condemn. We are no better off if we can't even remember our five calls for prayers. (Apa-apa pun keputusan, sama ada baik atau buruk biarlah empunya diri sahaja yang menilai. Jangan kerana benda ini kita terus mencaci, mengutuk. Kalau kita lima kali sembahyang  pun on off, tiada beza juga, kan?)
• "Let's pray among ourselves, okay? We shouldn't hurl hurtful words to others as we will have to endure the burden of our sin later." (Kita berdoa sahaja sesama kita okay. Jangan kita lemparkan kata-kata tidak baik nanti kita sendiri yang berdosa nanti.) – Aug 14, 2022
Photo credit: Astro Gempak