CO-PIONEER of Malaysia's 'uncensored journalism' Steven Gan will be stepping down as the editor-in-chief of Malaysiakini at the end of this month after helming the news portal as its editor-in-chief for 23 years.
He will, however, remain in Malaysiakini, taking a nominal role as editor-at-large.
"It has always been my intention to give way to the next generation when they are ready. The time has come," said the former journalist at The Sun in an article to announce his stepping down from the news portal this morning (Jan 27).
"There are many capable men and women in Malaysiakini whom I have full confidence in taking the organisation to the next level. In addition, my body and mind are telling me to take my foot off the pedal."
Gan who has been suffering from an eye ailment that makes it hard for him to look at the computer screen for long periods now plans to divide his time between Malaysia and Thailand where his wife, Prangtip, hails from.
On February 2022, his fellow co-founder of Malaysiakini Premesh Chandran left as CEO of the independent news portal after serving more than 22 years in that capacity. With Gan's eventual departure, the editorial team be led by executive editor R.K. Anand and managing editor Ng Ling Fong. Both the editor-in-chief and CEO posts are to remain vacant for now.
Premesh and Gan launched Malaysiakini in 1999 in a bid to evade the country's strict censorship of the media. Under the duo, Malaysiakini grew from a scrappy website of five staff to an organisation with more than 100 today.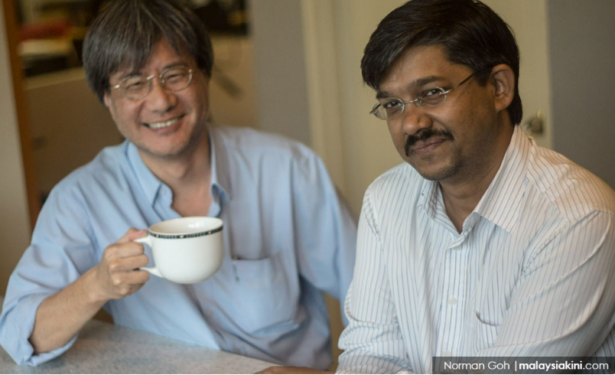 In the near future, the co-founders plan to transfer all their shares to a trust fund which will continue the organisation's mission.
Premesh, Gan and the non-profit venture capital Media Development and Investment Fund (MDIF) have a 29% stake each in the company while the rest is set aside for Malaysiakini staff.
Over the past two decades, Malaysiakini has covered six general elections, seven prime ministers and saw the arrest of three of its journalists.
It was declared a traitor by one prime minister and sued by another. It faced debilitating cyber-attacks, got booted out of media conferences many times and was raided by the police at least five times.
"We began in an era when there were no Facebook, Twitter, Instagram or TikTok. Technology has changed the way we consume information. So, too, our political landscape," shared Gan.
"Malaysians have since discovered the power of the vote. However, the issues that have hobbled Malaysia remain. Misinformation and disinformation are made easier through social media."
In 2001, Malaysiakini won a Free Media Pioneer award from the International Press Institute.
Gan himself won a 2000 International Press Freedom Award of the Committee to Protect Journalists, "an annual recognition of courageous journalism". In July 2001, Businessweek named him one of the "Stars of Asia" in the category "Opinion Shapers" for his work with the website. – Jan 27, 2023
Pics credit: Malaysiakini