THE ringgit has no fundamental strength left unless a miracle can happen with Malaysia's policymakers finally putting forward a credible action plan to resuscitate the nation.
In fact, the local currency has accelerated its pace of heading south in tandem with the advancement of #undibanjir (call to hold Malaysia's 15th General Election [GE15] during the monsoon spell) in mid-September 2022, according to EMIR Research president and CEO Datuk Dr Rais Hussin.
He said the US$/RM price pattern points to where reality stands versus the pure narrative management talks about "fairly strong reserves", "economy on the right footing with "stronger economic or trade growth" (on extremely low base though), "weak ringgit benefitting our exporters" and finally, yet another unsustainable feudal budget.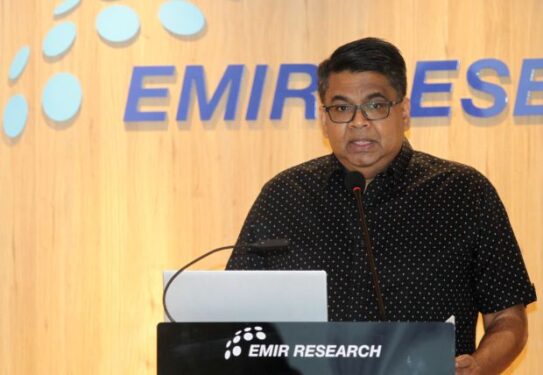 Critical factors currently placing the local currency include a weak position such as depleting international reserves, continuously sliding exchange rate (coupled with the belief that this general trend will continue in tandem with the country's fundamentals), expanding domestic credit (public and private), and domestic inflation.
"These factors could have been observed in Malaysia for some time and were ignored only by policymakers but not the investors, entrepreneurs, local human capital, etc," the former Bersatu co-founder who recently joined PKR pointed out.
"And EMIR Research particularly stresses that beyond all the above factors, it is the political instability, weak national governance, inconsistency and uncertainty of national policies and lack of strategic direction for the country that always hurts domestic currency the most as considerable empirical evidence in the academic literature suggests."
As of yesterday (Oct 20), the ringgit has continued to slide against the greenback, breaching the all-time low that was recorded during the Asian Financial Crisis (AFC) period in 1998. It was traded at 4.7270/7290 which was lower than the 4.7250 level recorded on Jan 7, 1998.
Dr Rais also chided the use of excuses that even currencies of more robust, developed economies affected worse than the ringgit.
"Larger depreciation would not hurt those better-equipped nations as bad as a relatively smaller depreciation can hurt our country given its structural economic weaknesses, shrinking industry and massive dependence on food imports," he justified.
"To a large extent, the information about all the US Federal Reserve rate hikes (completed and coming) has already been built into the prices a long time ago and now it is more of the fundamentals for every nation."
Dr Rais further reasoned that policymakers cannot continue to brush off the problem of significant ringgit depreciation with the book-style statements that such development will boost Malaysia's trade and growth.
"We need to recognise the problem and restore confidence in the ringgit credibly. The long-term measures require structural reforms in economics and governance," he asserted.
"In the medium term, all mega projects that are not a priority should immediately cease or be postponed. In the short term, policymakers must at least voice out a credible strategy (not hand-outs, subsidiaries and other hole plugs) to move the nation forward supported by clearly set input-output-outcome-impact (IOOI) links and metrics."
Moving forward, Dr Rais said investors want to see when Malaysian policymakers finally getting serious on matters of strong governance, radical transparency, widespread digitalisation (starting from the public services), innovation, creation of high paid jobs for many, empowering small farmers for flourishing food security, and nurturing/preserving talents, among others.
"Those are the issues which as we now discover more and more, were never addressed during the Barisan Nasional (BN) era, and likely on purpose because solving those problems will equalise and empower all Malaysians, thus making the nation factionless and united," he observed.
"Investors can discern the extractive economic and political institutions. They can read between the lines of the feudal and corporate elite goodies budget. They can also calculate immediately how #undibanjir can translate into low voter turnout which has historically benefitted the BN government." – Oct 21, 2022