Letter to Editor
STOP the Musang King durian plantation on Gunung Inas Forest Reserve, Kedah, where the recent Baling floods affected 1,500 villagers and 3 lives were lost, say 36 civil society organisations through a joint statement initiated by B.E.A.CC.H, the environmental cluster of the CSO Platform for Reform in Malaysia.
The clearing of Gunung Inas to make way for a Musang King Durian plantation is believed to be the cause of the Baling floods that swept across 42 villages and residential areas, despite repeated warnings since 2018 by villagers, environmentalists and non-governmental organisations. Sadly, all efforts by these concerned civil society organisations and individuals fell on deaf ears, resulting in irreversible devastation.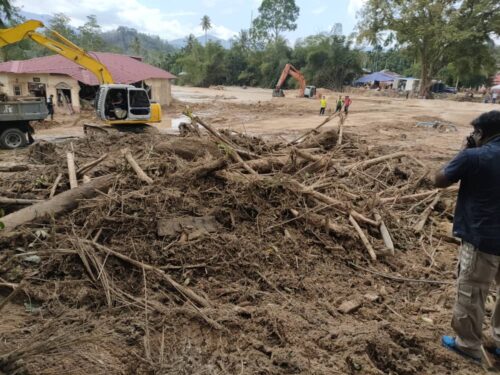 The CSOs are calling for the cancellation of the project for the following pertinent reasons:
1. The need for transparency on the due processes for the permit allocation of the said project. This includes the approval of the Environmental Impact Assessment (EIA) Report in 2013 for the cultivation of Latex Timber Clones and not for the Musang King Durian tree species.
2. Musang King Durian tree is not listed under the Forest Plantation Development Programme by the Forestry Department of Peninsular Malaysia and the Plantation Industries and Commodities Ministry. It is also not a recommended tree species for reforestation by the Forestry Department of Peninsular Malaysia.
3. The plantation is located on 25 degrees steep slope areas that should be protected as per the EIA. These hills pose soil erosion risks, as evidenced during the Baling floods that saw tree trunks and sediments washed down to the villages by the heavy rainfall.
4. The project is also located on the Ecological Network Area of the Central Forest Spine (Primary Linkage 5), as detailed in the Central Forest Spine (CFS) Masterplan and National Physical Plan. The CFS has critical mountain watersheds and catchment areas that supply water for 90% of the country's population. It provides climate regulation, soil protection and carbon storage while a range of flora and fauna including the endangered Malayan tiger subspecies and Asian elephants call it home.
These crucial points have been revealed since the floods with several local and national organisations, including B•E•A•CC•H•, which stands for Biodiversity, Environment, Agroecology, Climate Change and Habitat, having issued statements on the same.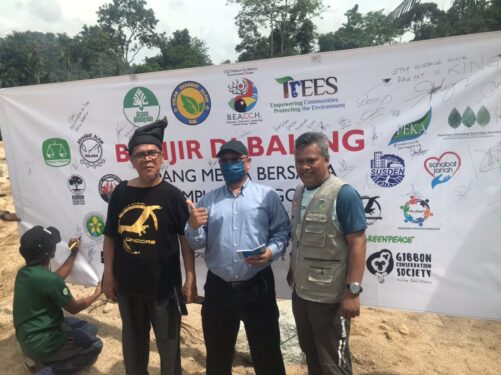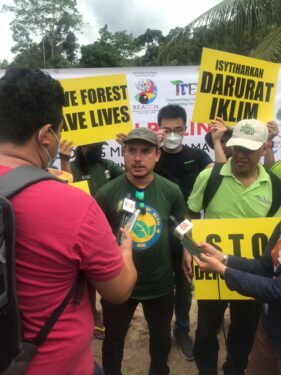 Moving forward, the CSOs are calling for a number of mitigation initiatives listed below:
1. The Federal Government to review and cancel its policies that encourage the development of monoculture farms within forest reserves in Peninsular Malaysia. Forest reserves should be maintained, conserved and protected for their ecological functions.
2. For the EIA report and all other reports by other government agencies on the Musang King durian plantation project to be made publicly available to ensure transparency and for due investigations to be carried out on the cause of the flood.
3. To set up a Royal Commission of Inquiry (RCI) to scrutinise the entire project and for a thorough investigation by the Malaysian Anti-Corruption Commission on the project owner and all other parties involved.
4. For immediate reforestation and remedial efforts to be initiated as soon as possible to ensure similar flood incidents do not recur.
5. The State Government to provide fair compensation for all victims, many of whom not only lost their homes but also their livelihoods in the Baling floods.
6. To review other development and forest clearing projects in Kedah, including in the Hutan Simpan Ulu Muda and the Hutan Simpan Rimba Teloi, that would have a bigger environmental impact if not stopped immediately. Ulu Muda provides water to Kedah, Perlis and Pulau Pinang. At the same time, the Hutan Simpan Rimba Teloi development would affect villages along Sungai Chepir that depend on the water source for their daily lives. Both disturbed forest reserves are already causing floods that affect nearby villages including:
a.     Hutan Simpan Ulu Muda
– Kg Landai, Kg Gulau, Kg Pinang, Kg Lentang, Kg Belantik and Sekolah Ampang Muda
b.    Hutan Simpan Rimba Teloi
– Kg Lubuk Tualang, Kg Belimbing, Kg Charuk Puyuh, Kg Jerai, Kg Kemelong, Kg Charuk Padang and Pekan Sik.
7. For the current and past politicians in office to refrain from passing the buck to each other and find a solution that will ensure natural carbon sinks such as primary and reserved forests continue to provide the necessary ecological balance for human survival and biodiversity conservation.
It is the sincere hope of all the undersigned CSOs that the relevant authorities cancel the Musang King Durian Plantation project with immediate effect and begin all remedial efforts listed above.
Endorsed by the Following Civil Society Organisations:
| | |
| --- | --- |
| 1 | Agora Society Malaysia |
| 2 | Angkatan Belia Islam Malaysia (ABIM) |
| 3 | B.E.A.CC.H. (Biodiversity, Environment, Agroecology, Climate Change and Habitat), Environmental Cluster of the CSO Platform for Reform |
| 4 | Centre for Independent Journalism |
| 5 | Consumers' Association of Penang |
| 6 | Family Frontiers |
| 7 | Gibbon Conservation Society |
| 8 | Greenpeace Malaysia |
| 9 | Kelab Sahabat Alam Sik (SAS) |
| 10 | Malaysian Primatological Society (MPS) |
| 11 | Malaysian Nature Society (MNS) Kedah Branch |
| 12 | Malaysian Nature Society (MNS) Selangor Branch |
| 13 | Pergerakan Tenaga Akademik Malaysia (GERAK) |
| 14 | Persatuan Aktivis Sahabat Alam (KUASA) |
| 15 | Persatuan Penduduk Laman Gahal (PELAGA) |
| 16 | Persatuan Pengamatan Air Pulau Pinang |
| 17 | Persatuan Penggerak Bumi Hijau Malaysia |
| 18 | Pertubuhan Alam Sekitar Sejahtera Malaysia- GRASS Malaysia |
| 19 | Pertubuhan Alam Sekitar Sejahtera Malaysia (GRASS Malaysia) Kedah Branch |
| 20 | Pertubuhan Menangani Gejala Sosial Malaysia (UNGGAS MALAYSIA) |
| 21 | Pertubuhan Pelindung Khazanah Alam |
| 22 | Pertubuhan Pemacu Pelancungan Daerah Sik (PEDAS) |
| 23 | Pertubuhan Pencinta Kesihatan (PROSIHAT) |
| 24 | Pertubuhan Pencinta Warisan Alam Semulajadi Malaysia  (PENCINTA) |
| 25 | Pertubuhan Persaudaraan Pesawah Malaysia (PeSAWAH) |
| 26 | Pertubuhan Rangkaian Pembangunan Kesinambungan Malaysia (SUSDEN Malaysia) |
| 27 | Sahabat Alam Malaysia |
| 28 | Sahabat Jariah Malaysia |
| 29 | SAVE Rivers |
| 30 | Saya Anak Bangsa Malaysia (SABM) |
| 31 | Taman Melawati Residents Association |
| 32 | Terabai Kenyalang Heritage Association of Sarawak |
| 33 | Treat Every Environment Special Sdn Bhd (TrEES) |
| 34 | Wetlands International |
| 35 | Wildlife Research Group (UKM) |
| 36 | Yayasan Food Bank Malaysia |
B.E.A. CC. H ( Biodiversity•Environment•Agroecology•Climate Change•Habitats) is a coalition of more than 100 civil society organisations focusing on institutional reforms for a better Malaysia.
The views expressed are solely of the author and do not necessarily reflect those of Focus Malaysia. 
Photo credit: Kelab Sahabat Alam Sik (SAS)