PAKATAN Harapan (PH) candidate Suhaizan Kaiat (main pic, middle) who won the Pulai parliamentary by-election yesterday (Sept 9) has described his victory as proof of acceptance by the constituents on Pakatan Harapan (PH) and Barisan Nasional (BN) cooperation.
The former Johor State Assembly Speaker said PH's success in the parliamentary constituency showed he has to shoulder a heavy responsibility and pledged to duly carry out his duties as an elected representative.
"The victory of the unity government in Pulai is a trust by voters and Allah. I thanked all voters for putting their confidence in me as their MP and also thanked all members of the party machinery for assisting from day one to the polling day," he told reporters after announcement of the Pulai parliamentary by-election results.
"The close cooperation of the PH and BN machinery and all the parties gave victory in Pulai. This is a convincing majority for the government led by Prime Minister Datuk Seri Anwar Ibrahim.'
In the by-election, Suhaizan who is also Johor Amanah vice-chairman polled 48,283 votes to win the Pulai parliamentary seat with a majority of 18,641 votes by defeating Perikatan Nasional (PN) candidate Zulkifli Jaafar (29,642 votes) and independent candidate Samsudin Mohamad Fauzi (528 votes).
In this regard, Suhaizan expressed his gratefulness for his first ever victory with a convincing majority, thus proving that the 'green wave' will not occur in Johor.
"This victory is proof of strong support for us; the PN wave in Johor did not happen and we have explained to the voters that it is important to choose government stability for the sake of national economic development," he justified.
"In fact, this is not a vote of sympathy given by voters but rather it is proof of support for the government."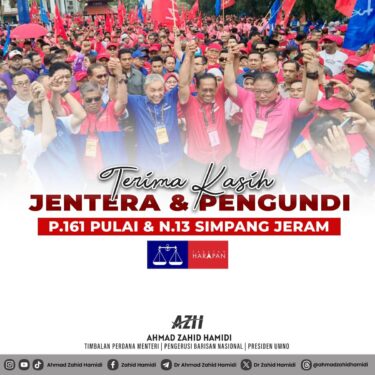 Regarding the low voter turnout which was partly due to unfavourable weather conditions which discouraged some voters from going out to vote, Suhaizan described this as normal in any by-election.
First time lucky
Earlier, Suhaizan who was accompanied by his wife Dr Norsham Idris and Amanah vice president Datuk Mahfuz Omar arrived at the vote tallying centre in Sultan Ibrahim Diamond Jubilee Hall at 8.50pm (last night).
Since he started contesting in elections since 2004, Suhaizan has never won in the four state seats and two parliamentary seats that he was fielded.
Among the state assembly seats he had contested were in Kempas (2008 and 2013), Kukup (2018) and Pulai Sebatang (2022) while the parliamentary seats was in Parit Sulong (2004) and Simpang Renggam (2013).
The Pulai parliamentary and Simpang Jeram state by-elections were held following the death of the incumbent Datuk Seri Salahuddin Ayub who was also the domestic trade and cost of living minister on July 23.
Meanwhile, Prime Minister Datuk Seri Anwar Ibrahim congratulated both Suhaizan Kaiat and PH Simpang Jeram state by-election candidate Nazri Abdul Rahman for winning and retaining the Pulai parliamentary and Simpang Jeram state seats for the coalition in yesterday's (Sept 9) by-elections.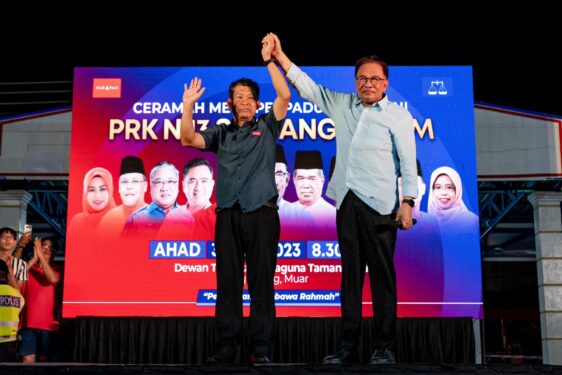 Anwar who is also PH chairman also expressed his appreciation to all voters who supported and believed in the efforts of the unity government in developing the country.
"This decision is a positive development for the unity government in ensuring the people's development and economic agenda can continue to be successfully carried out," he pointed out in a Facebook post.
Nazri who is also the Amanah Bakri division deputy chief polled 13,844 votes to win with a majority of 3,514 votes against PN's Dr Mohd Mazri Yahya (10,330 votes) and independent candidate S. Jeganathan (311 votes). – Sept 10, 2023