PRIME Minister Datuk Seri Anwar Ibrahim received 68% positive ratings for his leadership in a Merdeka Center survey conducted two months after the 15th General Election (GE15).
Indian respondents gave Anwar the highest approval rating (91%), while Chinese respondents came in second (73%). He received approximately 70% approval ratings from Bumiputera respondents in Sabah and Sarawak, and 60% from Malays.
Meanwhile, Anwar's performance at the time was criticised by about 20% of the respondents.
The same survey also saw 54% of the respondents saying they were satisfied with the overall performance of the new Government, while 25% reported dissatisfaction.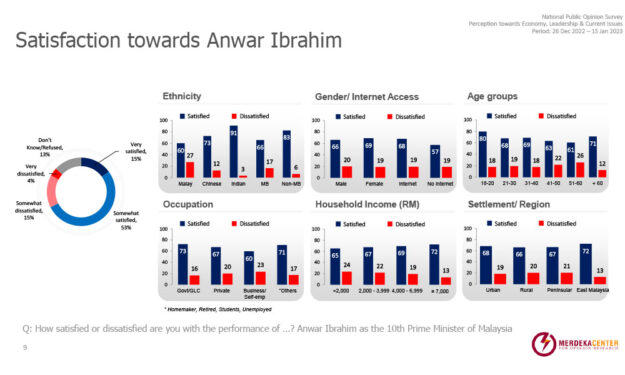 With regards to ethnicity, the Federal Government received favourable feedback from Indians (67%), Chinese (65%), Malays (48%), non-Muslim Bumiputeras (42%) and Muslim Bumiputeras (43%) (39%).
The survey also found that a large majority (79%) approved of the general election results.
According to the survey, 83% of respondents supported the King's appointment of Anwar as the 10th Prime Minister.
Among the respondents, 77% believed the unity government could bring about inclusivity and stability in the nation's politics, and 75% approved of Perikatan Nasional's decision to continue as the Opposition.
Also, 66% agreed with Barisan Nasional's decision to join the Pakatan Harapan-led government.
Following the survey, here are some other positive outtakes:
48 percent believe the country is now on the right track, up from 20% in October 2022
43% are optimistic about the national economy in the coming year, up from 23% in October 2022
38% are optimistic about their personal financial prospects compared to 26% in October 2022
The survey indicated that 20% and 19% of respondents, respectively, are worried about economic growth and the cost of living.
This was followed by increased economic investment, anti-corruption efforts, and efforts to improve educational quality.
The survey was conducted between Dec 26, 2022 and Jan 15, 2023 to gauge voters' perceptions of current events.
A total of 1,209 registered voters from Sabah and Sarawak, who are 52% Malay, 29% Chinese, 7% Indian, 6% Muslim Bumiputeras, and 6% non-Muslim Bumiputeras, were interviewed via landline and mobile telephones.
The participants were selected using random stratified sampling based on age, ethnicity, gender, and state constituency. — Feb 10, 2023