PASIR Salak UMNO division chief Datuk Seri Tajuddin Abdul Rahman, who was recently suspended from the party for six years, has downplayed the decision. 
The Pasir Salak MP briefly addressed the matter when asking a supplementary question in the Dewan Rakyat this morning.  
After quipping about the need to campaign for the upcoming 15th General Election (GE15), an opposition MP interjected to ask Tajuddin, "Still suspended, right?" 
In response, Tajuddin said: "I'm still with UMNO, no problem. Gantung itu bukan gantung mati (the suspension is not a death sentence). What is the problem?" 
He added, in jest: "Kalau nak gantung, gantung bagi mati, then okay. Kalau tak mati, then kita kena hidup balik."  
(Translation: If you want to suspend me until I die, then okay. If it was not a death sentence, then I have to resurrect myself.)
His remark elicited a smile from UMNO secretary-general Datuk Seri Ahmad Maslan, who was sitting next to him, and a chuckle from Dewan Rakyat speaker Tan Sri Azhar Azizan Harun, who was chairing the meeting.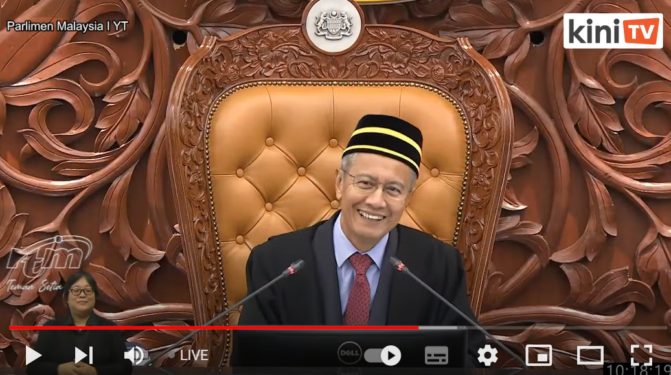 It was previously reported that the UMNO Supreme Council had decided to suspend Tajuddin and Alor Setar UMNO division chief Datuk Mohd Yusof Ismail from UMNO on suspicion of going against the party's top leadership. 
While Tajuddin did not confirm the matter, Yusof, a self-admitted ally of UMNO vice-president Datuk Seri Ismail Sabri Yaakob, speculated that the decision was a signal to the prime minister that his supporters among division chiefs will bear the brunt if he does not dissolve Parliament. 
Intense pressure 
Ismail has been under intense pressure from UMNO president Datuk Seri Ahmad Zahid Hamidi to dissolve Parliament this year and pave the way for early polls; GE15 must be held before September 2023. 
This is not the first time Tajuddin has been iced in the party, however. He was removed from UMNO's Supreme Council just three months ago after calling for Zahid's head and saying he was a "liability" to the party. 
In 1995, the outspoken lawmaker was sacked in UMNO over allegations that he paid RM6 mil to secure his position as the party's Pasir Salak division chief. He was re-elected to UMNO in 1998.  
Meanwhile, responding to Tajuddin's query in the lower house on domestic and foreign economic challenges and their impact on the people, Economic Affairs Minister Datuk Seri Mustapa Mohamed said there were many issues the Government was trying to address.
These include global issues arising from the aftermath of the COVID-19 pandemic, the long-drawn Russian-Ukraine war and climate change effects such as floods and droughts. 
Mustapa added that Cabinet has been discussing matters such as these and others like the country's acute shortage of foreign labour every week for several months now. 
He implied that is why approval was recently granted to 541,315 foreign workers to work in Malaysia in an effort to meet the industry's total demand for foreign labour.
He also made reference to a meeting later today between Human Resources Minister Datuk Seri M. Saravanan and construction industry associations to sort out the matter. – Oct 3, 2022 
Main photo credit: KiniTV