REITERATING that his heart and soul still lies with UMNO, the party's motor-mouth warlord Datuk Seri Tajuddin Abdul Rahman wants UMNO to accept his latest appeal to overturn his six years of suspension from the party.
The former Pasir Salak MP who viewed himself as an asset to UMNO pledged never to desert UMNO's struggle but needed his "keris back to help UMNO go to war".
"In so doing, I hope party president (Datuk Seri Ahmad Zahid Hamidi) will give me back my keris (uplifting his suspension)," he told the media after showing up at the 2023 UMNO general assembly at the Kuala Lumpur World Trade Centre (WTCKL) despite being suspended.
"How is it possible for me to silat (fight opposition parties) when I don't have my keris. Tell the president to reinstate me as an UMNO member. After my suspension is lifted, I will fight for the party's interests. I'm ready, send me anywhere."
The former Pasir Salak UMNO division chief also revealed that Perikatan Nasional (PN) had offered to field him as a candidate in the recent 15th General Election (GE15) but he refused.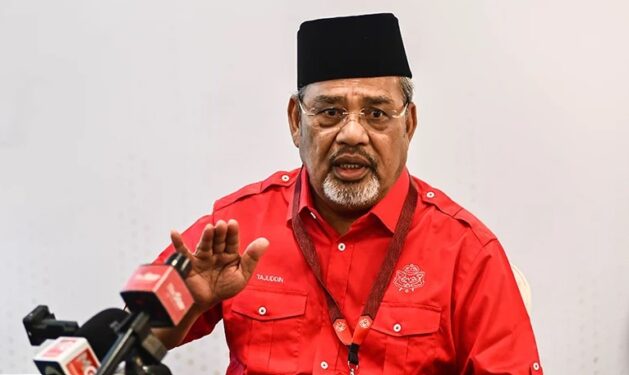 For the record, Tajuddin was suspended from the party for six years last October after being removed as an UMNO supreme council member in June 2022 prior to being dropped as Malaysia's ambassador to Indonesia the following month.
It is worthwhile noticing that UMNO has lost two of its warlords Datuk Seri Shahidan Kassim and Tan Sri Annuar Musa to PN after both joined PAS in recent times.
A few days after his removal from the supreme council, he launched a scathing attack against Zahid by urging him to step down as UMNO president.
He further accused the Barisan Nasional chairman and Bagan Datuk MP of making decisions for the party unilaterally while members of the party's supreme council simply went along with his decisions.
Renowned for his antics as the former Prasarana Malaysia Bhd chairman following an outrage over an LRT collision gaffe (that eventually led to his sacking), Tajuddin had earlier ticked off UMNO's forrner secretary-general Datuk Seri Ahmad Maslan for the failure of the Pontian MP and Deputy Finance Minister to advise Zahid accordingly.
"While preparing for the election, the grassroots already said they want local candidates. Yet, the party opted for 'outsiders', causing the grassroots members to protest over it and voted against UMNO," he justified. "Who is on the losing end here?"
In May, Tajuddin, 75, voiced hope that his appeal for his suspension to be lifted would be considered by UMNO's supreme council for he loves the party and wants to settle the issue amicably.
As a former UMNO supreme council member he said he wanted to help the party's machinery in the upcoming state polls.
"If I am no longer suspended by UMNO, of course I will campaign, help work for the party.  If possible, I don't want to be with other parties," he told the media at his Hari Raya open house in Pasir Salak. – June 10, 2023
Main pic credit: KL Broadcast Media