"TALKING is one thing. It is the actions – without fear and favour – that matter". "Walk the talk, don't be NATO (no action, talk only)!"
The above are the synopsis of how lay Malaysians had reacted to the "final warning" issued by Prime Minister Datuk Seri Anwar Ibrahim (PMX) to "extremists" who nonchalantly fan the 3R sentiments of race, royalty and religion at will.
"The MCMC and the police will monitor everyone without exception. It is not an issue whether the extremist is a Malay, is of high stature, or (spoke) in Mandarin or Tamil," he told the media after chairing the Unity Government Leadership Consultative Council meeting at Menara Dato Onn Kuala Lumpur last night (July 12).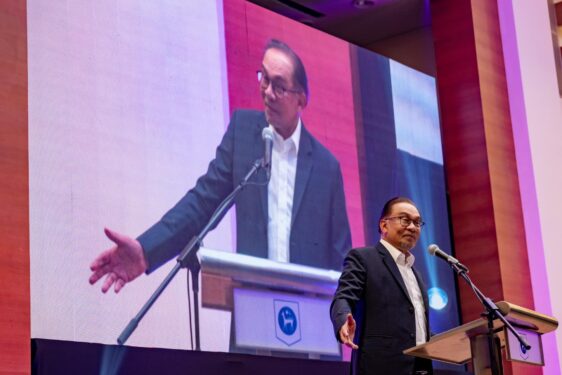 "This is because certain people feel their position is too high and mighty such that they could never be prosecuted or challenged. The country can't be like that. We can't look and choose position, rank, pedigree, or wealth; if we do, it is damaging."
As much as Anwar who is also the Pakatan Harapan (PH) chairman sees the need to be stern, political-savvy Malaysians are taking his warning with a pinch of salt … unless he dares to take down the might of former twice premier Tun Dr Mahathir Mohamad and controversial cleric Tan Sri Hadi Awang.
"How many final warnings will continue to be issued and how many more teh tarik sessions at the police station before any real action is taken?" netizen harimau_arif reacted with fury in the Malaysiakini commentary section following Anwar's "final warning" issuance.
"(The) rakyat is tired of the non-action – NATO! Start with TM and Hadi. Don't just talk but walk the talk. That's what we voted for."

His view was seconded by YellowRusa5552:
"I am very sure the likes of TunM and Hadi will be happy to test your hypothesis that anyone touches 3R issues will be arrested!" teased the netizen. "You can't take these 3R things from them – it's like their heartbeat, without them they would promptly declare that they'd rather be dead! Let's see if your words are actionable!'

In the words of netizen RZee, the statement from PMX may be "nice to hear but seeing is believing". "Dr M should be arrested charged and due to his age put under house arrest. Hadi should be jailed to shut him up," asserted the Malaysiakini subscriber.
"Other PAS leaders' electronic devices should be taken away. PAS online rubbish and their sermons should be monitored. Religious leaders' sermons and mosques should be monitored. Can the government do this?"

Anyway, below are four more sensible food for thought courtesy of netizens that PMX can truly consider:
KK Voter: 'Final warning' is a double-edged sword; if no action is taken, it will be hard to take him seriously from now on.
Durian_lazat: Let PDRM (Royal Malaysia Police) and AGC (Attorney-General's Chambers) take action! It is no business of the executive. But this clarifies that all should be treated equally under the law, and that the authorities won't be held ransom by the PMO (PM's Offce).
PurpleDragon2199: Does final warning means no more from now onwards? This is a low hanging fruit, quite clearly action must be taken against those (especially influencers) who has violated national interests, unity and stability. PM – we hope you're really serious about taking actions.
Focusapp: How many 'final' warnings are necessary? Walk the talk. People judge you by your actions, not talk (only). Arrest and charge Hadi and we will know that you are indeed serious. Otherwise, it's all theatre. – July 12, 2023