DIGRACED and trounced in the last general election by a member from his former party Bersatu in the Langkawi constituency, Tun Dr Mahathir Mohamad's final resort is to turn to Bersatu president Tan Sri Muhyiddin Yassin and PAS president Tan Sri Abdul Hadi Awang.
Just like what he did with Pakatan Harapan (PH), after riding on the popularity of the man he imprisoned, the nonagenarian now appears very desperate as he fights for his own survival.
By turning his former foes into allies, he hopes that his allies will trust him but it is predictable that backstabbing will begin the moment he is out of the wilderness.
His defamation suit against Prime Minister Datuk Seri Anwar Ibrahim is probably what the latter had been waiting for. Soon, Anwar will be able to expose in the open court all the past dealings which turned his sons into multi-millionaires.
This was despite most Bumiputera whom he now claims to be "rescuing" from the non-Malays are still in the B40 category after over 52 years since the New Economic Policy was launched in 1971.
His former UMNO supporters have already abandoned him. From being a "demi-god", some of the most derogatory nicknames are used these days in conversations even in Malay chat groups.
The "political fugitive" has been on the run from one party to another because he is fast losing his support base.
From UMNO, a major component party of Barisan Nasional, he set up Bersatu together with Muhyiddin and joined Anwar's PH; then, he was betrayed by Muhyiddin, and now he is back with Muhyiddin.
It appears that the former two-term prime minister knows that his political career has ended and it no matters for him even if the country burns.
The Malaysia he knew little about
However, there is the Malaysia that Dr Mahathir knows little about. This is the real and beautiful country we have called home.
While he and several others were involved in political coup d'etat to overthrow Tunku Abdul Rahman Petra Al-Haj in 1969, the Malays at Kampung Melayu Datuk Keramat surrounded a Chinese family in their village to protect them from the aggressors.
Acccording to Sunway Education Group CEO Prof Datuk Elizabeth Lee, when she was only 10, her family "hid and gave refuge to the neighbour's Malay security guard until the authorities came days later to rescue the stranded."
Elsewhere in the country, it was very peaceful. A columnist from Sabah Datuk Joe Samad tells us, "Sorry, nobody talks about May 13 here because it did not happen in East Malaysia. For us it never happened. I only experienced the Brunei rebellion."
Therefore, May 13 was never a racial riot but the mischief whipped up by politicians in the likes of Dr Mahathir in order to ascend to power.
After he ascended to power, he did not know that Malays, especially those in the B40 category whom Anwar is trying to help, are hardworking people.
It is not difficult to spot them selling preserved assam boi mangoes on street corners. But, Dr Mahathir calls the Malay "lazy, dishonest and prefer to be Mat Rempit."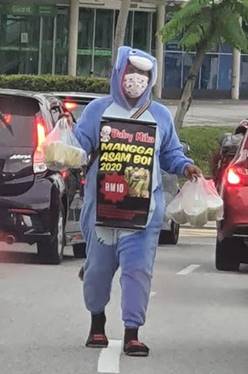 He did not know that Malaysians are talented people. We have produced a first Asian Oscar best actress award winner, Tan Sri Michelle Yeoh who has made the country proud.
We also have Datuk Seri Dr Wan Azizah Wan Ismail who was the first female Malaysian doctor who received the prestigious MacNaughton Jones gold medal in 1977.
The first Malaysians to climb Mount Everest and reach the summit at 8,848m in 1997 were two Malaysian Indians, M. Magendran and N. Mohanadas, and a 37-year-old Sabahan Adelinah Lintanga and Sarawakian Fazilah Shahren. To date, our Indian brother, Ravichandran Tharumalingam is a two-time solo Everest summitter.
When the national career MAS ran into trouble as a result of poor management by one of Dr Mahathir's cronies, it was Datuk Seri Idris Jala, a Sarawakian from the small village of Bario, who helped to turn it around.
Dr Mahathir himself had also depended a lot on the late Tan Sri Lim Kok Wing to provide him with the strategies on winning elections. When South Africa was facing its first general election, it was this Chinese creative maestro and communication guru that Dr Mahathir depended upon to help the African National Congress and Nelson Mandela.
Perhaps the reason why Dr Mahathir lost the Langkawi election is because Lim was no longer around to advise him.
Does Dr Mahathir know these towering giants that have put Malaysia on world map?
And during the COVID-19 pandemic, when Taman Sri Muda was badly hit by the floods, people came together to help each other. No one talked about race or religion.
Even Anwar's own daughter, Nurul Izzah and former Bangi MP Ong Kian Ming went on their kayaks to do rescue work. Unfortunately, not one of Dr Mahathir's own millionaire sons came to the help of the fellow Malays who were affected…or did they?
Perhaps, this is the reality of Malaysians in action that Dr Mahathir chose not to know about since he has his blinders on.
Even without visiting Sarawak, Dr Mahathir can go to Kedai Kopi Hai San in Terengganu where people of different races come together to enjoy a meal together.  – June 29, 2023
Main pic credit: Reuters