THE police is right to tell netizens not to speculate on the bizarre sighting of pork waste/pig carcasses that were found scattered on a stretch of road in Kepala Batas, mainland Penang during the wee hours of yesterday (Jan 14).
In the words of the Seberang Perai Utara District acting police chief Superintendent Nor Salawati Saad, untrue speculations regarding the incident could jeopardise public harmony and order.
Earlier, a viewer of Astro Awani has shared a photo of the leftover pork parts which has since gone viral on the social media – sparking public concern – especially given that the vicinity of the incident boasts a Malay-Muslim majority populace.
On Friday (Jan 13), Penang declared African Swine Fever (ASF) outbreak in the state as a disaster after seven commercial pig farms – five in South Seberang Perai and two in Central Seberang Perai (two) districts – were infected with the disease.
This led to Penang Chief Minister Chow Kon Yeow revealing that a total 25,000 pigs were tested positive for ASF and will be culled. As of Friday itself, a total 929 pigs had been culled and their carcasses buried on-site.
According to Chow, the culling is done using the CO2 (High Concentration) gas method which is in accordance with the guidelines of the Animal Welfare Code of Practice: Animal Disposal Management.
The culling exercise could not start earlier due to land constraints for the disposal of carcasses. To-date, there is no effective vaccine against ASF, hence the importance of stringent control to prevent it from spreading further.
To control the movement of live pigs and pig carcasses from the infected area, Chow said road blocks have been implemented along roads leading to Perkampungan Valdor since Jan 10.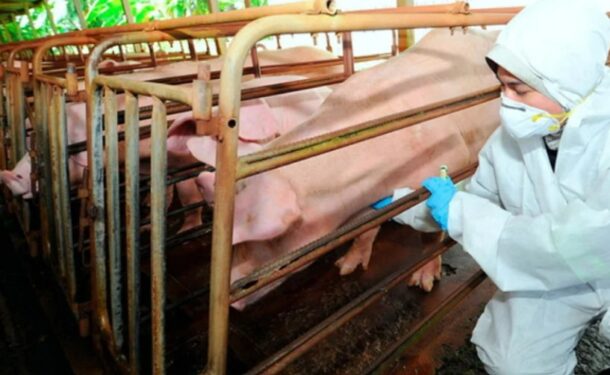 Deliberating further of the leftover pork waste/pig carcasses incident, Astro Awani reported Salawati as saying that they were found scattered on Jalan Pokok Tampang heading to Lahar Yooi, Tasek Gelugor on Saturday (Jan 14) morning en route the landfill for disposal.
According to her, the initial investigation found that the pork waste emanated from a slaughterhouse and was supposed to be transported to the disposal site.
"The work of cleaning up the leftover pork was carried out by the Tasek Gelugor Fire and Rescue team, the Seberang Perai City Council and the company responsible for its transportation," she elaborated n a statement issued last night (Jan 14).
The case is being investigated in accordance with Rule 19 of the Road Traffic Rules 1959. – Jan 15, 2023