POLITICS never fail to impress. Nothing is permanent in politics; forget about moral grounds for rules can be bent and so, too, is personal conviction. Extreme versatility is the call of the day as one's worst enemy today can be his best friend tomorrow and one's best friend can be his worst enemy overnight.
Who would have expected former twice premier Tun Dr Mahathir Mohamad to one day during his advanced lifetime to embrace an arch rival in PAS president Tan Sri Hadi Awang who was willing to accept him with open arms in the name of "common grounds" despite his "past wrongs"?
"Although he (Dr Mahathir) had wronged PAS, there are many common grounds that must be taken into account: to unite and fulfil shared duties in Islam," the cleric had reasoned out in a Facebook posting in the wake of their reconciliation in May.
"Among the discussions was how it's a must for Malay Muslims to unite as Malaysia's majority original residents and a majority in the multi-cultural society."
Fast forward two months later, the nonagenarian who is hailed by Hadi as a "formidable statesman" showed up at the Sultan Muhammad IV stadium in Kota Bahru last night (July 21) before a 'sold-out' crowd, beaming with enthusiasm that Kelantanese are proof that the Malays are able to unite, thus showing a genuine strength to defend their own homeland.
"I was amazed and happy to see so many people gathered at the stadium that depicted the unity of the Malays," PAS mouthpiece HarakahDaily cited the country's fourth and seventh premier whose reign spanned almost a quarter century as saying during the 'statesman's discourse' session in conjunction with the Munajat Rakyat Kelantan event last night.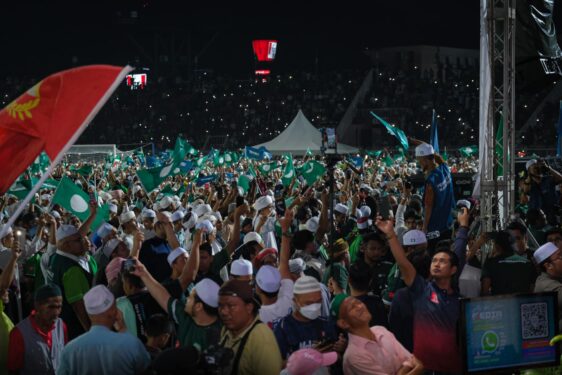 "Never in the history of my 80 years of involvement in politics have I seen the presence of so many Malays filling the stadium like tonight. I'm also happy to have visited the late Tok Guru Nik Abdul Aziz's home, a great figure in the world of Islamic politics and Malay nationalism," quipped the Proklamasi Melayu chief advocate.
Among Perikatan Nasional (PN) leaders in attendance during the event were the coalition's chairman Tan Sri Muhyiddin Yassin, Hadi, PAS deputy president Datuk Seri Tuan Ibrahim Tuan Man, caretaker Kelantan menteri besar Datuk Ahmad Yakob and PAS secretary-general Datuk Seri Takiyuddin Hassan.
Also present were Muafakat Nasional president Tan Sri Annuar Musa, PAS vice-president Datuk Mohd Amar Abdullah, National PAS Youth chief Ahmad Fadhli Shaari and Bersatu Youth (Armada) chief Wan Ahmad Fayhsal Wan Ahmad Kamal.
However, the said gathering was interrupted by heavy rain after Annuar delivered his speech at approximately 11pm, leaving tens of thousands in the field soaking wet with some resorting to take shelter under prayer mats while others hid in makeshift pavilions and tents. – July 22, 2023