THE Health Ministry (MOH) needs to seriously re-look into the transfer procedures of its medical personnel after an investigative health portal made damning revelation that some medical officers have pawned gold and withdrawn from their Amanah Saham Bumiputera (ASB) accounts to finance their out-of-state placements.
CodeBlue highlighted the woes of one Dr Liza (pseudonym) – a UD43 medical officer who is currently working at a public health clinic in Kuala Lumpur – who is required to report to a district in Sabah by month end for her permanent appointment.
Although she didn't appeal to stay in the Klang Valley due to the lack of positions, the MOH rejected her appeal for even a posting to another state in the peninsula.
The 30-year-old doctor who began her housemanship in 2019 said she doesn't yet know her exact placement at a klinik kesihatan (health clinic) as she hasn't received her appointment letter; only which district in Sabah she will be posted to.
In a meeting last Thursday (July 20), the MOH's Human Resource Division (BSM) has stated that contract medical, dental and pharmacy officers taking up permanent positions this year are not eligible to claim for their transfers (tuntutan bertukar pindah).
According to presentation slides of the BSM's meeting which it sighted, CodeBlue said this is due to "a disruption (terputus) in the period of the officer's service from contract to permanent".
Aside from ineligibility for transfer claims, contract doctors, dentists and pharmacists taking up permanent positions in the public health service are also "not eligible for reporting-for-duty claims (tuntutan lapor diri) for transfers this time whether the officer has previously made claims or not".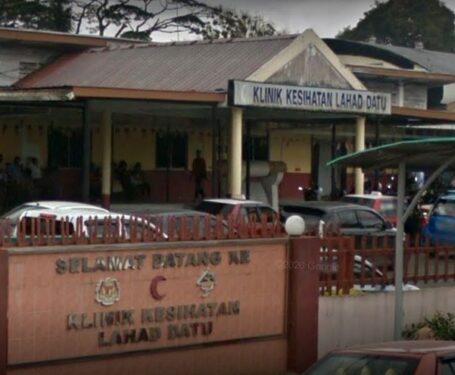 Such ruling will affect over 4,100 contract medical officers who have already been working at the MOH for four to seven years.
"My (medical officer) friends and I pawned our gold and withdrew from our ASB accounts," Dr Liza told CodeBlue. She received about RM3,000 from pawning gold and withdrew some RM1,000 from her ASB account.
Dr Liza estimated a minimum of RM5,000 for the cost of her transfer from the Federal capital to Sabah, including cargo flight costing about RM2,000 to bring over her car; an RM400 personal flight ticket; house rental that can cost RM1,000 a month for a two-bedroom flat (landlords may ask for rental deposit worth up to five months) as well as daily car rental of RM120 at the cheapest and accommodation costs pending moving into her rented place.
This comes about as Dr Liza was informed that there was no more vacancy for government housing in the Sabah district where she has been posted to.
"I'm just waiting for my pay to come in. This is a very embarrassing situation but it's a reality. One of my (medical officer) friends only has RM30 left in her bank account."
In fact, two to three of Dr Liza's female friends in their early 30s – who are currently working in the Klang Valley – also similarly pawned gold and withdrew from their ASB accounts to self-fund their postings to Sabah for their permanent appointments.
All-in-all, Dr Liza revealed that she takes home a monthly net pay of about RM4,000. "Our title is 'doctor, but we're actually B40," she added.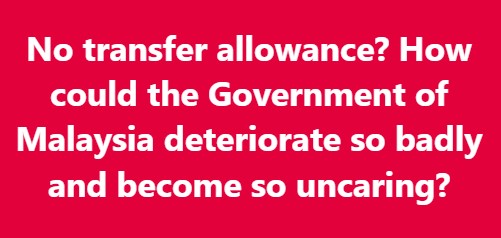 The dismal financial hardship faced by the public doctors has gotten veteran journalist and blogger Datuk A. Kadir Jasin fuming.
"No transfer allowance? How could the Malaysian government deteriorate so badly and become so uncaring?" he lambasted in his latest Facebook post. "If this is true, it's shameful on the government. Ministers, politicians and top civil servants enjoy generous traveling expenses and claims but the people who save lives are treated with disdain." – July 25, 2023