WARISAN president Datuk Seri Mohd Shafie Apdal has pointed blame at Tun Dr Mahathir Mohamad and Datuk Seri Anwar Ibrahim for the party's decision to spread its wings to the peninsula.
The once-Pakatan Harapan ally also fingered the duo's ongoing "feud" over who would become prime minister as to why the country's political landscape reached a stalemate and has not progressed until today.
"When in UMNO, they bickered and then in Pakatan, they quarrelled to no end," The Vibes reported Shafie as saying at a fundraising dinner in Penang last night (Sept 16).
"In trying to grab power, they backstabbed others along the way," he added.
The former Sabah chief minister recalled how prior to the 14th General Election (GE14) in 2018, Mahathir promised him that his Parti Pribumi Bersatu Malaysia (PPBM) party would not enter Sabah.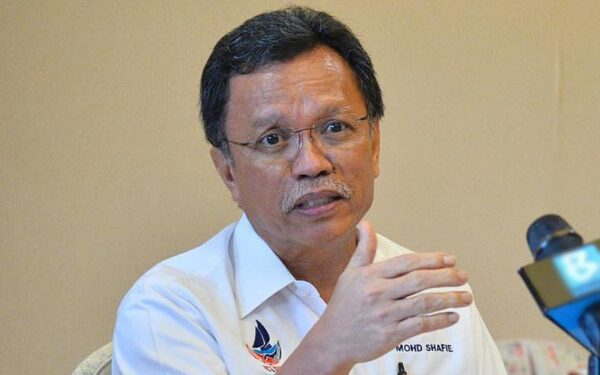 This was so Warisan, which was formed in Sabah, would govern the state on its own.
Despite this, PPBM entered the East Malaysian state all the same in April 2019, one year shy of Pakatan winning GE14. 
Anwar, on the other hand, was negotiating with Warisan during the Sabah elections, Shafie pointed out, but was also talking to other parties outside of Sabah at the last minute.
"If the likes of Mahathir and Anwar can come into Sabah seeking seats, there is no reason Warisan cannot do the same in the peninsula," Shafie noted. 
Warisan has plans to contest in several peninsular states during GE15, including Perlis, Penang, Selangor and Johor.
"Open to creating an East Malaysian bloc"

Meanwhile, ahead of the 15th General Elections (GE15), Shafie said he is open to the idea of Sabah- and Sarawak-based parties coming together to form a bloc and stabilise the Federal Government.
Doing so will also help to "redeem" the Government's past mistakes and facilitate its demands for equal rights and access to oil and natural gas royalty payments.
He also warned against underestimating East Malaysians, noting that Sarawak has 31 parliamentary seats and Sabah 25 – more than Barisan Nasional (BN), which currently holds 40 seats in the lower house.
The Vibes also reported Shafie as saying that Warisan will go into GE15 on its own.
Shafie further lamented that the Malaysian United Democratic Alliance (MUDA) was "being bullied" even though it wanted to join Pakatan.
MUDA, led by former PPBM leader Syed Saddiq Syed Abdul Rahman, wants to join forces with Pakatan to face GE15 together. 
MUDA has remained on its own since its inception in September 2020.
Pakatan has since said they will set up a committee to hold negotiations and evaluate MUDA's position and engage with MUDA officially, after Anwar, who is also Pakatan chairman, gave the go-ahead to do so. – Sept 17, 2022
Main photo credit: EPA