JOHOR Crown Prince Tunku Ismail Sultan Ibrahim has urged all parties to upgrade their respective stadium pitches to the Zeon Zoysia type of grass.
According to a report in Berita Harian, Tunku Ismail – also known as TMJ – said he is astounded by the attitude of other football club owners whom he said had spent lavishly on their players but yet cannot afford a high-quality football pitch.
He further noted that the crow-grass pitch type is no longer suitable for modern football games.
"I have recently suggested made a suggestion to a local football club owner to change the football pitch of the current stadium while waiting for the new stadium to be completed. So at least when the new stadium is completed, they will have two quality pitches in their possession," he was reported as saying.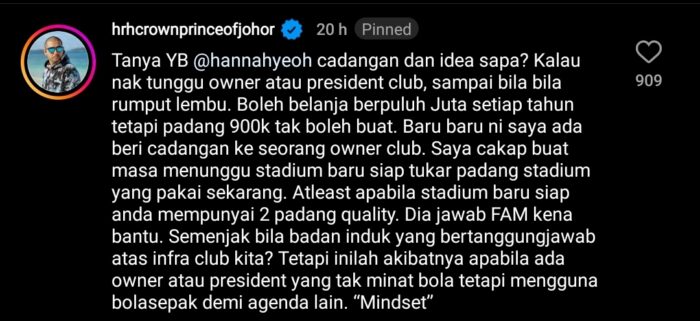 "In response, the owner said that Football Association of Malaysia (FAM) needs to lend a hand. Since when is the sport governing body responsible for maintaining the infrastructure of one's football club?
"This is what happens when the owner and president of a football club is uninterested in football but make use of football for a totally different agenda altogether."
TMJ's comment gained the attention of Youth and Sports Minister Hannah Yeoh who racknowledged that TMJ – who is a former FAM president – had pointed out that more stadiums in the country need better-quality grass.
The quality of some of the pitches used in the Malaysian Super League for this season's edition had previously attracted plenty of criticism due to their less than satisfactory playing surface.
The Harimau Malaya squad's home venue – the Bukit Jalil National Stadium – is reportedly in the process of being replaced by the Zeon Zoysia grass and is expected to be completed by October this year. – March 8, 2023
Main pic credit: NSTP