IN Malaysia, migrant workers account for 20% of the country's workforce, actively contributing to vital industries such as service, manufacturing, plantation, and construction.
Unfortunately, hundreds of thousands of migrant workers face challenges in opening a bank account, and consequently, many of them receive their salaries in cash, leaving them vulnerable to financial losses such as theft and fraud.
However, this would become a thing of the past with TNG Digital Sdn Bhd's hassle-free payroll management solution, which allows direct payment to be performed from employers' business banking account to workers' e-wallets using their DuitNow account number.
"Handling physical cash is also problematic for employers as withdrawing and disbursing physical money makes the payroll process cumbersome, affecting productivity and profitability," said TNG Digital CEO Alan Ni.
"Touch 'n Go e-wallet allows employers to shift away from handling physical cash. They can now directly disburse payments to their migrant workers' e-wallets from their business bank accounts, streamlining the process."
Similar to any traditional bank by providing an account number, every Touch 'n Go e-wallet comes with a DuitNow account number.
Possessing a DuitNow account number allows users to seamlessly send and receive money across all banks in Malaysia, similar to a traditional bank account.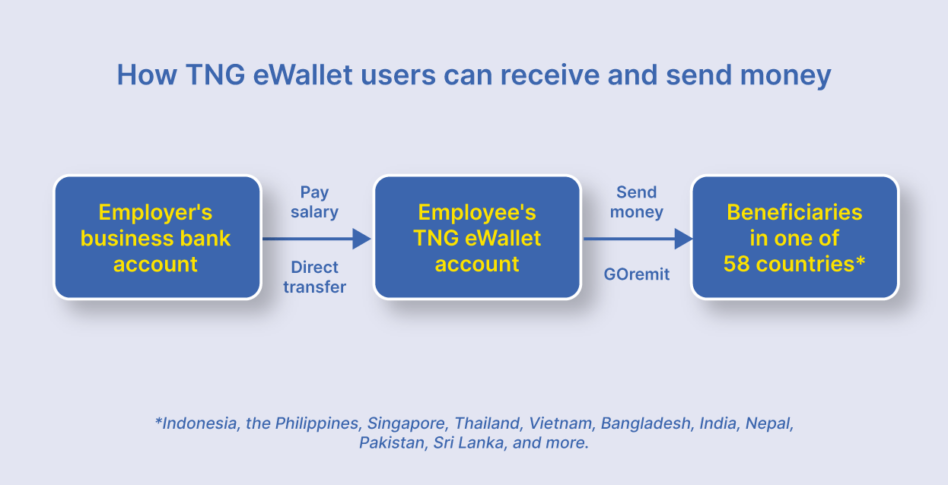 This seamless capability is facilitated by Payments Network Malaysia's (PayNet) realtime payment platform (RPP), providing an effective alternative for the unbanked.
As a salary payment alternative, the Touch 'n Go e-wallet by TNG Digital will benefit migrantworkers and employers.
In an effort to complete TNG Digital's value proposition as an alternative financial service provider to the migrant workers, users have the option to get a Visa card that allows them to withdraw their e-wallet funds as cash from ATMs and make purchases at all Visa-enabled merchants, both physical and online.
Earning a salary in Malaysia means that migrant workers will have the need to send money home.
Traditionally, migrant workers will visit the physical branches of remittance service providers for the same purpose. However, the repetitive monthly process of carrying and traveling with physical cash will expose them to the same problems.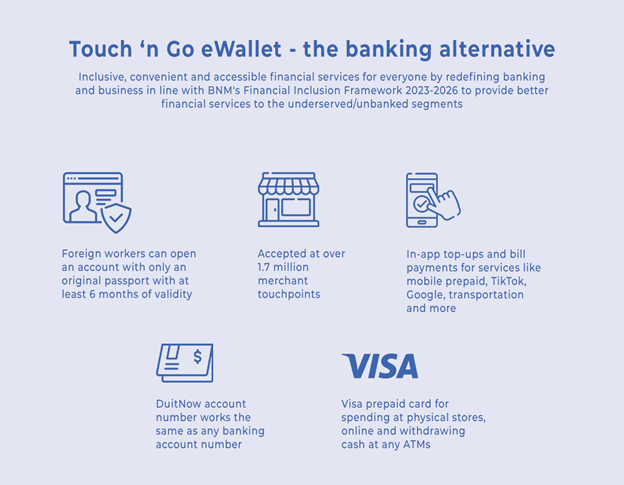 Now with GOremit, a fully digital cross-border remittance service in the Touch 'n Go e-wallet, migrant workers can easily send money to their loved ones in their homeland to support their family's living expenses or for savings purposes.
GOremit allows users to transfer funds overseas to 58 countries, including Indonesia, the Philippines, Singapore, Thailand, Vietnam, Bangladesh, India, Nepal, Pakistan, Sri Lanka and more – countries that encompass the majority of where these migrant workers are from – through a convenient and secure platform.
"This initiative is aligned with Bank Negara Malaysia's financial inclusion framework 2023–2026 and TNG Digital's ESG initiative – Tech 4 Good, aiming to continuously promote financial inclusion for the underserved," added Ni.
Interested employers can reach out to [email protected] for further info. Or for more information about GOremit by TNG Digital's Touch 'n Go e-wallet, visit https://www.touchngo.com.my/tngdr/goremit/. – Nov 21, 2023
Main pic credit: Touch 'n Go