PAS deputy president Tuan Ibrahim Tuan Man has announced last night that PAS-led states will not dissolve their legislative assemblies simultaneously with Parliament if a general election is held soon.
This announcement comes hours after Opposition leader Datuk Seri Anwar Ibrahim said that the three state governments under Pakatan Harapan (PH) – Selangor, Negri Sembilan and Penang – will only dissolve their respective state assemblies in 2023.
Anwar had clarified that leaders of the three states had told the PH presidential council that they would prefer to focus on search and rescue efforts during the upcoming flood seasons rather than being swamped with election work.
"If Parliament is dissolved now, the three states under PAS will not dissolve their state assemblies," Tuan Ibrahim said, referring to Kelantan, Terengganu, and Kedah.
He was speaking at a Perikatan Nasional (PN) dinner function, which was also attended by Perikatan Nasional (PN) chairman Tan Sri Muhyiddin Yassin and Bersatu Supreme Council member Datuk Seri Mohamed Azmin Ali.
PAS secretary-general Takiyuddin Hassan had previously declared that state governments led by the party would not dissolve their legislative assemblies earlier than March 2023.
Tuan Ibrahim also noted that Selangor would witness two "battles" – GE15 and the state election – and said PAS must be prepared to wrest the state from PH.
"First we take over Parliament, then we take over Selangor," he said.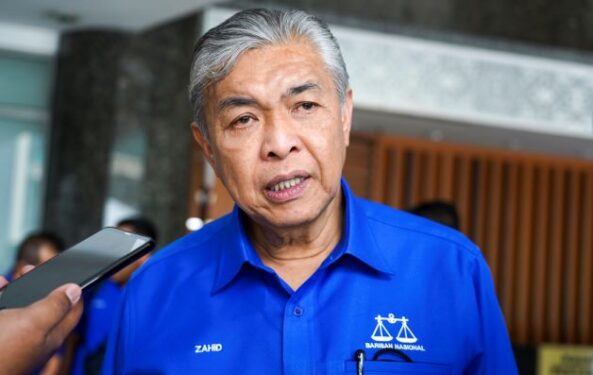 Yesterday UMNO president Datuk Seri Ahmad Zahid Hamidi said PH's move to sit out of the 15th general election (GE15) if Parliament is dissolved soon shows that it is afraid to face BN in the upcoming polls.
In his latest scathing attack against the Opposition, the Bagan Datuk MP pointed out that the people are no longer in support of Harapan, adding that the experience of losing in three state elections – Melaka, Johor and Sarawak – indicated that the rakyat is rejecting the Opposition.
However, he has yet to comment on PAS's latest announcement. – Oct 6, 2022
Main photo credit: Bernama