ONCE deemed a Barisan Nasional (BN) fortress a.k.a. fixed deposit, Johor's glitter has dimmed with UMNO having lost much of the party's past prowess among its grassroots even though it is still a 'dominant force' by virtue of being a component party of the ruling Pakatan Harapan-Barisan Nasional (PH-BN) alliance.
But if the vision of PAS deputy president Datuk Seri Tuan Ibrahim Tuan Man were to hold true, then prospect of the opposition Perikatan Nasional (PN) making inroads into Johor should not be taken lightly.
According to the Kubang Kerian MP, the green wave failed to materialise in the previous Johor state election (on March 12 last year) and the 15th General Election (GE15) last November due to two factors, namely (i) there were no 18-year-old voters and (ii) the low turnout in both elections (of around 50%).
"But we are targeting at least 70% to 77% voter turnout this time. And God willing, we are confident that if the turnout is like during the recent six state polls (65%-75%), we can expect to feel the presence of green wave in Johor," he told reporters after the launching of PAS election machinery and the introduction of the party's candidate for the Simpang Jeram by-election last night (Aug 23).
"The by-election this time around is crucial for us to see whether the momentum of support (for PN) across the country is also felt in the state."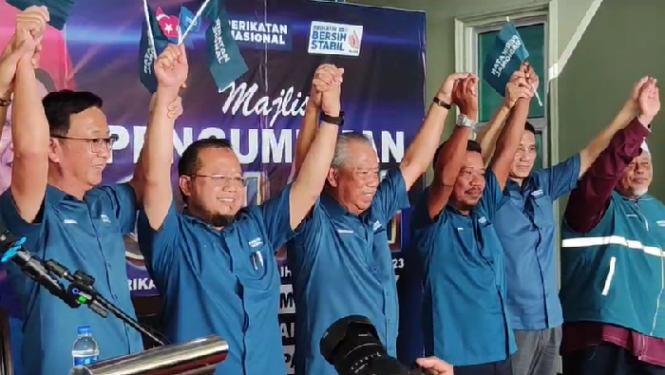 Yesterday (April 23), Perikatan Nasional chairman Tan Sri Muhyiddin Yassin named the coalition's two candidates for the Pulai parliamentary and Simpang Jeram state by-elections with Bersatu's Zulkifli Jaafar vying for the Pulai parliamentary seat and PAS' Dr Mohd Mazri Yahya contesting the Simpang Jeram state constituency.
Zulkifli is Bersatu Pulai division deputy chief while Dr Mazri, a vascular and endovascular surgeon, is the Johor deputy PAS commissioner and a party central committee member.
The elections slated for Sept 9 (Saturday) are being held following the death of the incumbent Datuk Seri Salahuddin Ayub who was also the Domestic Trade and Costs of Living Minister on July 23.
In a related development, Tuan Ibrahim expressed confidence that PN is capable of winning the Simpang Jeram state seat as the party had previously won in the area when the state constituency was named Sungai Abong.
"The Simpang Jeram state constituency is no stranger to PAS. We have won there twice before with the name Sungai Abong. We are confident that we will again repeat our success, God willing," – Aug 24, 2023
Pics credit: HarakahDaily