FORMER twice premier Tun Dr Mahathir Mohamad has made a damning revelation (if it is indeed true) that his protégé Datuk Seri Anwar Ibrahim's fixation to become Prime Minister (PM) had prompted him to ditch PAS in favour of UMNO.
The now Proklamasi Melayu chief advocate further took a swipe at the Pakatan Harapan (PH) chairman whom he described as "should have joined PAS" in view of his pious nature of always harping on religion but instead chose as if he was able to correct the wrongdoing within the party.
"But actually, he did not join UMNO to preach religious teachings. He saw that he could not become a PM by joining PAS. So, that's his wish," the country's fourth and seventh premier who reigned for close to a quarter century was quoted by HarakahDaily as telling a townhall session entitled "Statesmen and Religionists for Malaysians" last night.
"Not for religion, not for race, not for the country but to become PM. Crazy about becoming the PM."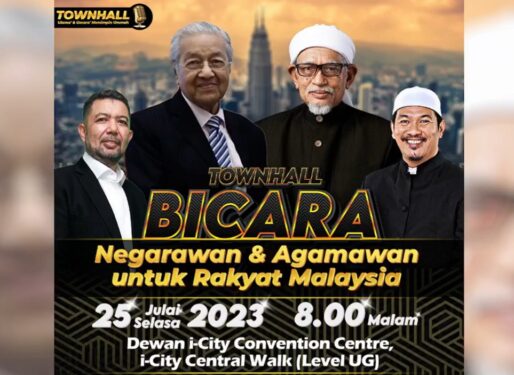 Dr Mahathir who was then deemed as Anwar's mentor also poked fun at the latter by noting that Anwar claimed that he would be able to assume PM-ship in 10 years but at the end of the day, he (Dr Mahathir) still reigned supreme, "causing Anwar to start discrediting him by accusing him of being a dictator, crony and so on".
The former Bersatu founder also claimed that Anwar was never the people's choice to become Prime Minister "but he was able to be in that position after colluding with a problematic party to get a sufficient majority".
"What has he done after becoming PM? Nothing for the religion or anything else for the matter. In fact, it look more like embracing the Western culture which is not appropriate. After all, the West is on the verge of collapsing".
Added Dr Mahathir: "That's Anwar's role and that's why we think that it would be better to put this person aside and rather work together among (political) leaders and clerics within the realm of Perikatan Nasional (PN)."
The Pejuang founder who deserted his new-found party after a disastrous 15th General Election (GE15) outing which culminated in him losing both his Langkawi parliamentary seat alongside his deposit further insisted that the country "must retain its Tanah Melayu origin and should never be handed over to other quarters, especially people who lack moral values or who are involved in heinous acts".
Dr Mahathir also described the campaign carried out in the name of Islam Madani "only serves as a bait to attract support while all its promises were never fulfilled".
Although he had previously made Anwar his deputy, Dr Mahathir stressed that he now "whole-heartedly opposes Anwar" and invites "the Malays to unite to overthrow the immoral leader". – July 26, 2023