IN a recent development, numerous prominent Malay personalities have been voicing their concerns and fears regarding the current government's performance, stated former premier Tun Dr Mahathir Mohamad on his Facebook page.
According to him, they expressed concern over various reasons, with some asserting that the government is not performing well. These sentiments are shared privately when encountered.
Despite their shared views, these individuals are reluctant to join any movement with similar opinions due to the fear of being identified by the government which may lead to potential repercussions.
"Among their worries are the risk of demotion to lower positions or outright dismissal, contract cancellations or harassment," said Dr Mahathir.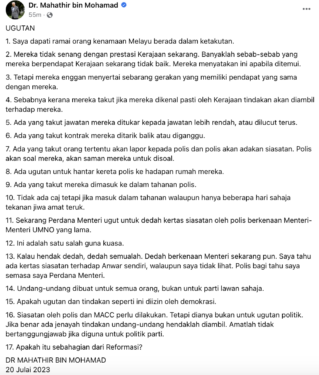 Moreover, some fear that certain individuals might report them to the police, resulting in investigations and summonses. They even expressed concerns about the possibility of having police vehicles stationed outside their homes.
Some are afraid of being placed in police custody. There may be no charges, but even a few days in detention can cause severe psychological stress, claimed the former Gerakan Tanah Air president.
Dr Mahathir pointed out that Prime Minister Datuk Seri Anwar Ibrahim has threatened to disclose investigation papers concerning former UMNO ministers. This is an abuse of power, he noted.
The two-time premier emphasised that if such disclosures were to take place, they should apply to all investigations, including those involving the current ministers. 
"I know there's an investigation paper against Anwar himself, though I haven't seen it," he added.
The former Langkawi MP further added that this incident raised questions about the selective use of such information against political opponents which may not align with democratic principles.
Furthermore, Dr Mahathir stressed the importance of conducting police and Malaysian Anti-Corruption Commission (MACC) investigations but solely for legitimate criminal actions and not as a means of political intimidation.
"If there are legal offences, appropriate actions should be taken. It would be irresponsible to exploit such investigations for partisan political gains. Was it all a part of the reformasi?"
As fear continues to loom among influential individuals, the need for an open and fair democratic process has become all the more critical. – July 20, 2023
Main photo credit: Reuters