TWICE former premier Tun Dr Mahathir Mohamad who has scaled the peak of Gunung Jerai – Kedah's highest mountain at 1,127 metres – after a span of 40 years has reminisced about how the symbol of pride for Kedahans can match Genting Highlands and Cameron Highlands in terms of its serenity.
This has prompted the former Langkawi MP to rekindle his Le Tour de Langkawi brainchild which is intended to place Malaysia on the world sporting and tourism map.
"I propose to hold an international cycling event from the foot of the hill to the top of the mountain," he penned in his latest Facebook post. "With that alone, we can introduce Gunung Jerai as one of the state's tourism products. Many will paddle while enjoying the greenery of this mountain."
More broadly, the Kedah-born nonagenarian who is two years to a century old is optimistic about Kedah's economic potential.
"The state of Kedah has a lot of potential just like other states. With proper investments, all state assets and resources have the potential to generate worthwhile returns," he reckoned after a meeting with Kedah Menteri Besar Datuk Seri Muhammad Sanusi Md Noor and the state EXCO members in Alor Setar yesterday (Sept 20) (main photo).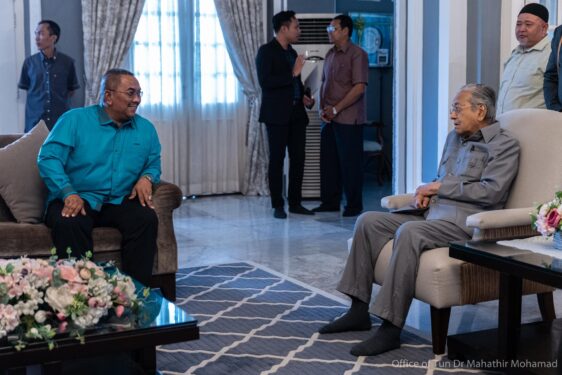 Dr Mahathir also shared about the development of Kuala Lumpur (KL) whereby the buildings were all low-rise in the past.
"When asked why development in KL is slow, apparently applications and approvals for investors took a long time," he revealed.
"We used to rely on a form system made up of seven copies of forms and documents that could easily go missing. This spelt bureaucratic inefficiency. But after Tan Sri Elyas Omar became mayor, he expedited the approval process."
As the prime minister (PM) at that time, Dr Mahathir even told Elyas that the approval process should not take more than a week.
"I myself was also keen to know what the reason would be if an approval is rejected," he recalled. "As investors were already interested, the approval process shouldn't be delayed if the conditions had been met otherwise they (the inventors) would run to other places and the country stood to lose."
Since then, Dr Mahathir said KL "is filled with cranes and has developed robustly just as any other city in other countries".
"And KL has provided many job opportunities and its economy is increasing like never before. In the same light, Kedah, Perlis, Terengganu and Kelantan have a lot of potential. We just need to know how to implement an idea to develop the state," projected Dr Mahathir.
"This includes the support of administrative machinery, good administration work practices, avoiding corruption in government affairs, avoiding disturbing investors when they are confident of investing in the state. This will all help to prosper the entire state." – Sept 21, 2023
Photo credit: Tun Dr Mahathir Mohamad's Facebook