IT is probably not surprising for twice former premier Tun Dr Mahathir Mohamad to openly express support for Perikatan Nasional (PN) despite not being a member of the coalition party.
As the chief advocate and founder of the Proklamasi Melayu struggle, the elderly statesman further acknowledged that the coalition truly fights to defend for the fate of Malay-Muslims without persecuting non-Muslim Malaysians.
"It's all about PN's struggle. That's why I agree to back PN. I'm not a member but I support (them)," Dr Mahathir pointed out during the Ceramah Mega PN Simpang Jeram at the Johor PAS headquarters in Bakri last night (Sept 3).
"Many Malays, too, support PN even though they are not members. Bit by bit, their support has proven to be effective."
Despite this, Dr Mahathir cautioned that Pakatan Harapan (PH) is not happy with the struggle of PN which is defending the fate of Malay-Muslims.
"We have made a proclamation about the problem of the Malays. What is wrong with that? Just want to talk about the problem of the Malays. We don't wish to touch on other people," he noted.
In this regard, Dr Mahathir urged Malaysians, especially Malay-Muslims, to come out en masse on Sept 9 (this Saturday) to vote for PN.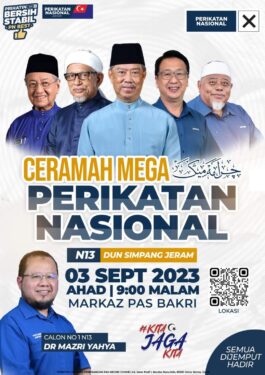 He further reminded the Malay-Muslim electorate that in some countries such as Ukraine, the people are willing to go to war against gigantic power such as Russia to defend their rights.
"But we're not calling for a war in Malaysia. There's no need to die. Just need to mark a cross (on the ballot paper). I'm sad that Malays don't go out to vote as if they don't love their country," lamented the ex-premier who reigned for 22 years (first stint) and a further 22 months (second stint) during the short-lived PH administration.
"I'm not asking anyone to die here. There's no need to fight a war. Just mark with a cross. I did so because I'm a Malay and not because of the party or anything else but because I love our race and our country.
"I take up this responsibility because this is my race, this is my country, this is my religion, I have to defend it. So I come tonight as a Malay. Not as a member of any party.
"But I support the struggle of PN. This is because PN does not want to give away our country to others," asserted Dr Mahathir.
Looking back, the nonagenarian reckoned that what is happening in the government today contradicts the reforms and freedom of speech that the people have fought for before given they are being intimidated with various laws that are enforced to suppress their freedom of speech.
"We have to show him (Prime Minister Datuk Seri Anwar Ibrahim) how much we do not support him. Therefore, on the day of voting, come out in large numbers. The Malays and likewise the Chinese must came out 100% to vote for PN," he rallied.
Also speaking addressing the crowd at last night's ceramah were PN chairman Tan Sri Muhyiddin Yassin, PAS president Tan Sri Hadi Awang, Gerakan president Datuk Dr Dominic Lau Hoe Chai, Johor PAS commissioner Abdullah Husin and the PN Simpang Jeram by-election candidate Dr Mazri Yahya. – Sept 4, 2023
Main pic credit: HarakahDaily