IN his maiden speech in Kelantan following his crossover to the 'green' side, former twice premier Tun Dr Mahathir Mohamad played on the racial card by calling others as 'guests' to this land which he claimed to belong only to the Malays.
It makes one wonder why he was adorning a green PAS vest, and was he merely trying to hide his Indian roots?
Before turning 'green', in fact, the former Langkawi MP is one colourful man, having adorned various shades of red (UMNO, Pakatan Harapan and Bersatu) and blue (Barisan Nasional, Perikatan Nasional and Pejuang).
Well, this may explain the reason why he lost the deposit in the last general election.  In branding terminology, this is what you call brand confusion – people are confused with the brand that he represents.
To some, his green vest reminds of the green frog that jumps from one leaf to another. But then, frogs can no longer survive after the Anti-Party Hopping Bill was passed by the parliament.
The Proklamasi Melayu chief advocate's claim that Malaysia belongs only to the Malays will certainly not go well with many sound thinking Malaysians. After all, nobody can claim ownership of land unless they have the title deeds of the land which requires lots of money to purchase.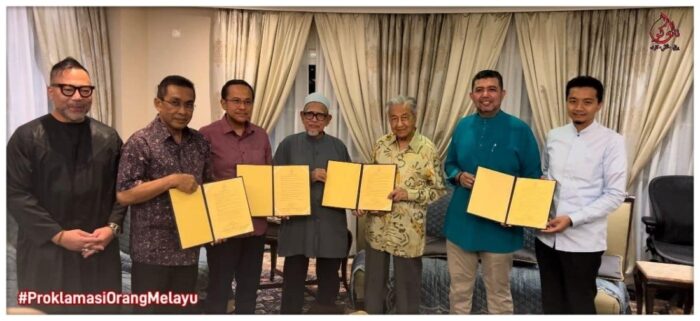 For that reason, the Federal Constitution only upholds that the Yang di-Pertuan Agong is the Supreme Head of the Federation while his brother rulers are heads of their respective states.
Most other races may have been just the foreign guests who were granted citizenship but that was during the transition from the colonial days to the Independence of Malaya.
Family background
Most Malaysians are citizens by birth, something which – unfortunately – Dr Mahathir has conveniently forgotten. For that, he could have failed badly in his history subject.
In denying that Malaysia is a multi-racial society, the elderly statesman has even forsaken his Vision 2020 where he challenged Malaysians to "establish a united Malaysian nation made up of one Bangsa Malaysia (Malaysian race)". One now wonders if he has become myopic after turning 90.
To many, the nonagenarian appears to have forgotten his own roots. His mother, Wan Tempawan Wan Hanapi is a Kedahan Malay who married one Indian Muslim whose original name was believed to be Iskandar Kutti. This was revealed by UMNO president Datuk Seri Ahmad Zahid Hamidi.
Since this case is now a court matter with Dr Mahathir suing Zahid for this expose, it is not appropriate to comment further except to say that based on traditional customs of most Asian cultures, one's lineage would usually follow after the father, hence Dr Mahathir's lineage should be no different.
For any ordinary person, there is no issue being identified as Indian Muslim, following the paternal lineage all the way to Dr Mahathir's paternal grandfather, who was probably also a "guest" who arrived in Malaya from the southern state of Kerala, India.
It was common for foreigners to later marry a local Malay woman and become either a Mamak Indian (who are well-known with their Mamak Roti Canai and Nasi Kandar that we all love) or Peranakan Chinese.
One does not need to feel ashamed of one's roots. After all, one's root is a fact that cannot be done away with.
The court case between Dr Mahathir and Zahid will decide whether a copy of an identity card with a picture that closely resembles his younger days is genuine or fake since Dr Mahathir has denied the validity of Zahid's claim.
The last question on everyone's mind is why do people appear to be picking on the former prime minister instead of treating him as a statesman? The late Datuk Seri Salahuddin Ayub, for example, has never been ashamed of his Chinese roots. Nor did former premier Tun Abdullah Ahmad Badawi ever denied he has Chinese roots, too.
Maybe, it is time for Dr Mahathir to cease his incessant play on the 3R (race, religion and royalty) sentiments which has irked many netizens. The golden rule is: "Treat people the same way you want them to treat you".
In short, most people would have preferred Dr Mahathir to remain a statesman – albeit his race but he has forgotten to behave himself in order to achieve this desirable status that only those who serve the nation well are capable of achieving. – July 27, 2023