IN his quest to justify his notion that promoting a multi-racial Malaysia is against the Federal Constitution. 'birthday boy' Tun Dr Mahathir Mohamad has put forth a logic that the identity of this country need not change just because the Malays made a concession to accommodate Chinese and Indians migrants in the past.
Pointing to the Chinese, the twice premier is fearful that while the Malays accepted that the Chinese dominate the country's economy which the Malays could ill-compete against them, the Chinese have become not only politically powerful but "intend to be even more powerful".
"In the past the Malays dominate the political arena and the administration. So, there was a balance," penned Dr Mahathir who turned 98 yesterday (July 10) in his latest Facebook post. "If they (the Chinese) dominate the political arena also, what is there left for the Malays. Is it (then) wrong for the Malays to try to regain a little of their former political dominance?"
Stressing that the Malays are only striving for Malay unity, the mastermind of the Malay Proclamation agenda reiterated that such action is in no way posing a harm to the Chinese even if Malaysia would remain a "Malay country".
"For over 60 years the Malays dominated the government. But it was during that time that the Chinese of Malaysia greatly prospered," rationalised the country's longest serving premier of almost half a century (22 years and 22 months to be precise).
"If the Malays regain the political power, the Chinese would still be needed to prosper the nation. The country would still be a Malay country. It had always been a Malay country."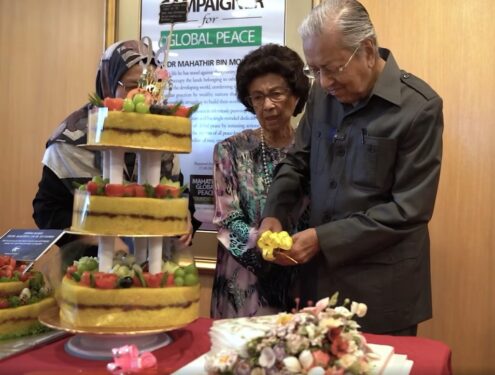 While the current ethnical composition of the country reflects a "multi-racial population", Dr Mahathir reminded non-Malays of the goodwill accorded to them by their host and that this "does not mean that this country has ceased to be a Malay country".
"In other countries where migrants settle, they become assimilated. The Malays made a concession to accommodate Chinese and Indians migrants. They need not be assimilated upon gaining citizenship," he argued.
"But that does not mean that the identity of this country must change. By all means make money in Malaysia. Build your super shopping towns. But do not deprive the Malays of their country and their history. Allow the Malays to have their share." – July 11, 2023
Pic credit: Tun Dr Mahathir Mohamad's Facebook