AT 97 years-old, Tun Dr Mahathir Mohamad has survived three open heart surgeries.
He went on to recover from a bout of COVID-19 which he coincidentally contracted during the recent National Day event even though he admitted to being one of the earliest Malaysians to take the COVID-19 vaccine at the height of the pandemic.
He was not spared of COVID-19 but he survived the ordeal yet he still appears hale and hearty and looking in the pink of health accompanied by his wife Tun Dr Siti Hasmah Mohamad Ali at the recent "Beyond The Pandemic: Empowering Seniors For Their Best Years" event organised by Third Age Media Association (TAMA).
Here he candidly shared with FocusM some simple but powerful secrets behind his longevity:
Tip No. 1: Follow mother's advice as mother knows best
"The first advice was given to me by my mother when I was a young boy. She told me to stop eating when the food tastes nice," revealed Dr Mahathir.
"Oh my gosh, how do you do that? But, later on … when I studied medicine, I realised that her advice was very good because when you want to eat and eat, you grow fat. And, when you grow fat, you put a strain on your heart."
He eventually found out that his mother's advice was in fact good when he studied medicine in his pursuit of being a doctor. Dr Mahathir disclosed that his weight has been maintained at a steady 60kg to 62kg – hence, there is no major change – for the past 40 years.
He also occasionally diets and consistently holds on to his mother's advice to not eat too much even when the food is nice.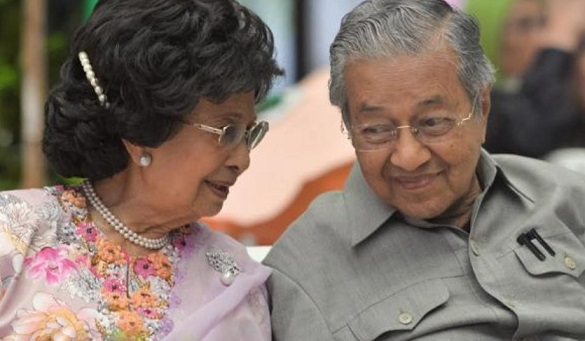 Tip No. 2: Maintain a balanced weight by eating everything in moderation
Dr Mahathir recalled that when he was studying in Singapore, he used to frequent the Cathay Cinema where there was a weighing machine in which one could slot in a 20 sen coin to check one's weight which would be given on a small card.
"Imprinted on the weight reading was a slogan – 'Weight Control is Health Control' so I always remembered that you need to control your weight. I eat everything but in small quantities and in moderation."
Tip No. 3: Avoid contracting any fatal diseases
As seniors progress into their golden years, the most important thing is not to contract any fatal disease in the likes of cancer whereby there's nothing much left that one can do," shared Dr Mahathir.
"I had a heart attack twice but heart attacks can be treated. I had open heart surgery three times actually. I recovered from that and more recently from COVID-19 and am still functioning now," he shared.
Tip No. 4: Keep staying alert & active
"With age, you can get senile, nyanyuk and dementia, etc but I believe that when you are old, don't stop being active," he advised. "You have to keep being active physically and mentally.  Mentally, you have to read, write, talk, argue, debate and all that…" he added with a laugh.
Tip No. 5: Exercise by walking
Exercise for the elderly is essential. According to him, the most important exercise is walking as then "your whole body exercises".
Tip No. 6: Indulge in hobbies
"Keep an interest in something. You must keep an interest because when you are active, your body responds."
Dr Mahathir further suggested that seniors pick out a couple of hobbies that they can enjoy such as gardening – or even to keep their mind afloat with political developments inside and outside Malaysia. When one's mind is active, the body responds positively.
Tip No. 7: Tread carefully
"You have to be very careful when you are old as the bones get very brittle and can break easily," cautioned Dr Mahathir.
Simple matters like ensuring the bathroom floor tiles are not slippery and fitted with rubber padding for instance, is key to avoid falls.
"Always remember, you are likely to fall, so be careful. Just be a little bit more careful with your way of life and you will be alright," he added. – Oct 17, 2022
Yvonne Yoong is Focus Malaysia's contributing editor, seasoned in covering the property beat and other industries.
The views expressed are solely of the author and do not necessarily reflect those of Focus Malaysia.