"NO" is the response by Twitter to an attempt by the Malaysian Communications and Multimedia Commission's (MCMC) 'ungentleman demeanor' to remove highly-charged tweets related to the manner the Government handled last weekend's flash floods.
According to Malaysiakini, a netizen posted yesterday (Dec 24) that he had received an e-mail from Twitter informing him about a request made by MCMC to the micro-blogging site to remove his Twitter posts. However, Twitter rejected MCMC's request.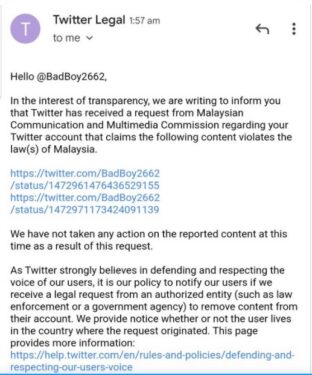 Apparently, the two content that MCMC wanted to remove include a tweet where the netizen criticised a flood fundraising event involving Women, Family and Community Development Minister Datuk Seri Rina Harun.
The other content that MCMC took issue with was a tweet that criticised Entrepreneur Development and Cooperatives Minister Tan Sri Noh Omar over the latter's statement regarding the eligibility of flood victims to claim government aid.
In a short statement, the commission said they made the request to ensure the law as per Section 233 of the Communications and Multimedia Act (CMA) 1998 is complied with.
Section 233 of the CMA stipulates offences related to improper use of network facilities or services, and was commonly used to crackdown netizens who upload social media posts that authorities deem as offensive or can potentially incite hatred, among others.
"MCMC always respects platform providers such as Twitter. MCMC also has the responsibility to ensure that there is compliance with existing laws as stipulated under Section 233 of the CMA," the commission pointed out.
"Thus, MCMC has taken the action of reporting the use of several obscene hashtags to Twitter."
Malaysiakini also shared highlighted the experience of another Twitter user @cheryltanxr who had deleted her original tweet which was understood to have criticised a flood relief shelter over alleged discrimination against foreigners.
"Some of you may be wondering where my tweet about one of the shelters discriminating foreigners went. Just want to update here that I've received a warning from Twitter and MCMC asking me to remove my tweet as I've violated Malaysian laws," shared the Twitter user.
"I would love to keep the tweet up and see how far they're willing to go, but my parents are not happy with me. Just know that our government has the [REDACTED] audacity to do nonsense like this and try to silence voices over actually being helpful at this time." – Dec 24, 2021