STRESSING that Pakatan Harapan (PH) has never made UMNO less Malay, the party's communication director Datuk Lokman Noor Adam has called on all UMNO members to be wary of the propaganda of voting only for UMNO but to abstain from voting should other PH component parties, especially DAP, contest in their constituencies.
Stating that this runs afoul of the spirit of the unity government, the UMNO Supreme Council member emphasised the need to unite in a multi-ethical environment as a plural society even if majority of the population is made up of Muslim Malays.
"If we can accept Malaysia as a plural society, then we should not deprive others of a chance to make a living in the country," he told a question & answer (Q&A) session on his live Facebook broadcast yesterday (June 7) after addressing UMNO's deputy president Datuk Seri Mohamad Hasan's (Tok Mat) concerns over who will further trust UMNO if the unity government fails.
"Today we have to accept the reality that DAP and other coalition members of the unity government managed to generate support from 97% of non-Malay voters which is by no means a small figure."
Although UMNO had performed below expectations during the 15th General Election (GE15) due to internal sabotage and slender, Lokman reminded party members that UMNO is still a party with the biggest Malay membership in the country.
"Imagine if UMNO with the biggest Malay membership combines with a party that gets the biggest mandate from non-Malays … this will give rise to a combination that will churn out a win-win situation or a harmonious formula which will enable the Malays, Chinese and Indians to prosper in a multi-ethical society," he envisages.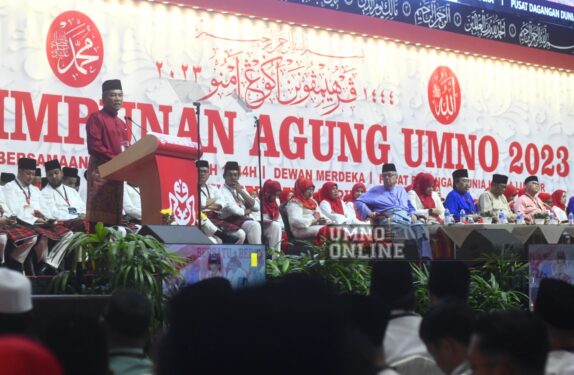 Lokman also reminded the party's grassroots to be wary of former UMNO Youth leader Wan Muhammad Azri Wan Deris a.k.a. Papagamo and ex-Seremban UMNO division chief Zool Amali Hussin a.k.a. Jebat who have no qualms spreading falsehood that disgraced ex-premier Datuk Seri Najib Razak wants the UMNO president and unity government to fall.
"Supposedly UMNO plays the vote only for UMNO candidate strategy with abstinence on PH component parties, the latter may retaliate by giving UMNO the same treatment whereby the biggest winner eventually is the sponsor of the propaganda which is Perikatan Nasional (PN) and party traitors within UMNO who have yet to switch camps," cautioned Lokman.
"The same applies to the shallow mentality of only going out to vote if the candidate is Malay but stay put at home if they are non-Malays will only benefit PN, hence it is vital for us not to fall for such propaganda."
Earlier, Lokman said Tok Mat who opened UMNO's Wanita, Youth and Puteri' 2023 general assembly expects the party's younger generation, especially members of its Youth and Puteri wings, to serve as a springboard for UMNO to recoup its past strengths and glory.
"Obviously, the quest to enhance the understanding of the grassroots to accept the unity government is not an easy task but if we're able to stay united and push aside all our differences, God willing, nothing is impossible to achieve," he added. – June 8, 2023