FORMER de facto law minister Datuk Zaid Ibrahim has deemed as inappropriate the recent announcement by UMNO which is a component party of the Pakatan Harapan-Barisan Nasional (PH-BN) alliance that it will embark on a campaign trail to explain to its members that it was the Agong who wanted the party to join PH-BN.
This, according to him, may only suggest that "the royalty is the real player in our political life".
"Is this the way the monarchy is best preserved?" tweeted the Kota Bahru-born legal practitioner who is currently an UMNO member.
"When the government invites the Istana (palace) to involve itself in political matters, usually it's a prelude to the end of monarchy. That's what history taught us. If the government wants to protect the monarchy, then it's best to keep them away from politics."
For context, UMNO supreme council member Datuk Seri Ahmad Maslan had recently said that BN will explain to voters in the Pulai parliamentary and Simpang Jeram state seats by-elections regarding its decision to uphold the Yang di-Pertuan Agong's decree by joining the unity government.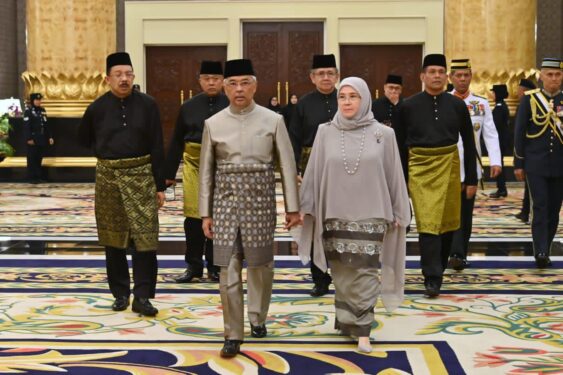 He said UMNO would also explain to the people that DAP had agreed to accept four matters in the federal constitution before BN decided to be part of the Unity Government after the 15th general election (GE15).
According to the Johor UMNO deputy chairman, voters' lack of understanding on these matters had contributed to BN's defeat in three states and allowed Perikatan Nasional (PN) to make inroads in Selangor and Negeri Sembilan in the Aug 12 state polls.
"The BN machinery will deliver a clear message and explanation to Johorians in these two constituencies (Pulai and Simpang Jeram) so that they understand and can manage their sentiment well," he told reporters after a Fly the Jalur Gemilang@Pontian UMNO division office over the weekend (Aug 19).
"DAP has acknowledged the status of Islam; position of Malay rulers; position of Bahasa Melayu and the special rights of the Malays (under the constitution)."
So, what's Zaid's advice for the royal institution?
"Keep politics for the politicians. If we elect useless or even dangerous politicians, we can at least remove them, even at a significant cost.
"Removing the monarchy is impossible by democratic means. We are all peaceful. So we should keep our wise and benevolent kings away from politics and road shows. It's for the mutual interests of the Istana and the people." – Aug 22, 2023