MANY UMNO members seem to be at odds with the rationale of "new political dynamics" mooted by the party's secretary-general Datuk Seri Ahmad Maslan to ensure victory at all costs for the unity government at the upcoming state polls, by-elections and national polls.
In a recent tweet, the Pontian MP and Deputy Finance Minister I has called on UMNO members to vote in the name of the unity government – even if they dislike DAP – so that they can "faithfully uphold the orders of the Yang di-Pertuan Agong".
"So, when UMNO/BN contests, members and supporters of other parties in the unity government will support our candidate," he justified. "Likewise, in areas where parties in the unity government are contesting, we need to return a favour by supporting their candidates as well."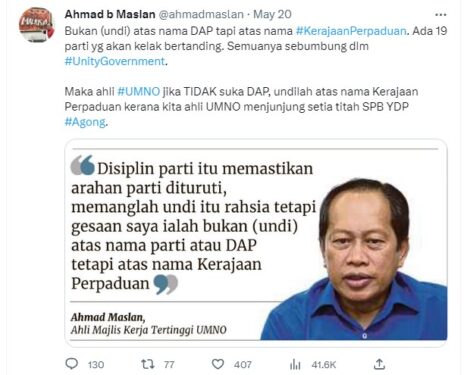 Ahmad further rationalised that voting for DAP at the upcoming state polls in six states should not be interpreted as "voting for DAP but in the name of the unity government" considering that "everyone lives under the same roof in the unity government".
"DAP members and supporters can vote and support UMNO and MCA candidates during the forthcoming state polls. Likewise, members of the 19 parties under the unity government alliance can support each other. This is called mutual understanding," he noted.
"PAS and Bersatu, too, had previously been part of a coalition that consisted of DAP. Nothing wrong with that. This is political dynamic."
While DAP's national publicity secretary and Teo Nie Ching has also voiced similar sentiment by urging DAP members and to set aside any past differences by casting their votes for UMNO, the latter's party loyalists are mostly unconvinced with Ahmad's proposal.
"Isn't it a big sin to vote for DAP as Zahid (UMNO president Datuk Seri Ahmad Zahid Hamidi) had already taken an oath never to vote for DAP? Isn't this tantamount to riding on religion for the sake of UMNO-DAP?" chided netizen Muhammad Faizal (@PejalMazalan) with Iskander (@mohd_syarif17) describing such action as a "betrayal of principles".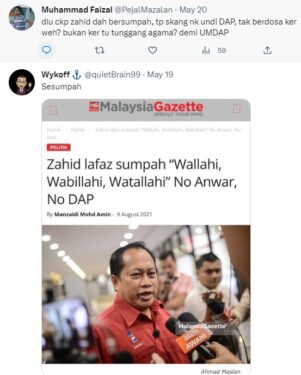 Describing Ahmad's call as "doing a stupid job", netizen ??? (@biskutlututz) warned of mass grassroots rejection" while Rujay Hf🇲🇾 (@rujay1) suggested that it would be easier for the UMNO secretary-general to just say that the party "has instructed all UMNO members to vote for DAP".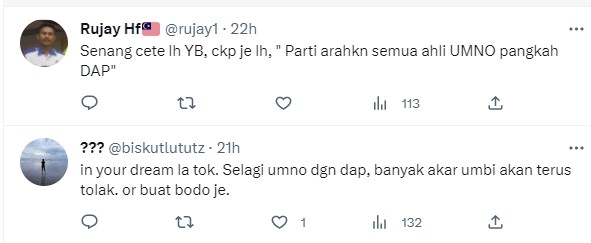 Netizen cobra al mubaraq (@cobramubaraq) deemed as not justifiable to "ride the rocket (DAP's political symbol) for a piece of worldly position and wealth but only to live a life of hypocrisy and treachery".

Netizen Azfat Azmiaffan (@AAzmiaffan) conveyed his frustration as follows: "For the sake of a position, you treat us as cows. While you enjoy a conformable position, you've no clue of the hardship endured by the grassroots." – March 21, 2023