"WHETHER we are part of the unity establishment or otherwise, wrong is wrong … an investigation is warranted". "There shouldn't be double standards". "Law Enforcement should be impartial. Harmony, prosperity and security of our beloved nation must be prioritised".
Such are some of the feedback which flooded UMNO Youth chief Dr Muhamad Akmal Saleh's Facebook page following a recent post which insinuated that DAP chairman Lim Guan Eng should be next on the list to be detained/charged in court for fanning the 3R (race, religion and royalty) sentiment.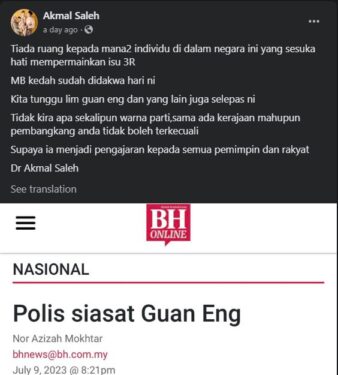 This follows Tuesday's (July 18) police arrest of caretaker Kedah menteri besar (MB)-cum-PAS warlord Datuk Seri Muhammad Sanusi Mohd Nor who was later charged at the Selayang Sessions Courts with two counts of sedition against Selangor ruler Sultan Sharafuddin Idris Shah. The Perikatan Nasional (PN) election director pleaded not guilty to both charges.
The courts then fixed Oct 4 for mention of both charges framed under Section 4(1)(a) of the Sedition Act 1948 and punishable under Section 4(1) of the same law which provides a maximum fine of up to RM5,000 or imprisonment for up to three years or both if convicted.
"There is no room for any individual in this country who likes to play with the 3R issue. Kedah's MB has already been charged. We'll wait for Lim Guan Eng and others after this," Dr Akmal who is also the Merlimau state assemblyman pointed out.
"Regardless of the colour of the party – whether the government or the opposition – nobody can be excluded (from facing the music). Let it be a lesson to all leaders and people."
One wonders if the statement by the Russia-trained medical doctor will in any way jeopardise the newly found cordial relationship between UMNO and DAP especially in light of PN claiming to have made inroads into three of Pakatan Harapan-Barisan Nasional (PH-BN) alliance's strongholds of Selangor, Penang and Negri Sembilan. – July 20, 2023