THE Malaysian Anti-Corruption Commission (MACC) head honcho Tan Sri Azam Baki must furnish facts and figures to justify his statement yesterday (Sept 29) that "bribery and power abuse cases in Penang is worrisome", so insisted veteran lawmaker Lim Kit Siang.
Although Penang is a well-known opposition and especially the DAP stronghold, the 81 year-old Iskandar Puteri MP caveated that both offences should not be condoned and "must be wiped out at all cost" if they indeed occur as claimed by MACC chief commissioner.
"Has Azam the facts and figures to justify his statement? Which is the most corrupt and the least corrupt state in the country?" asked Kit Siang. "The MACC chief should not make irresponsible statement against any state without facts and figures."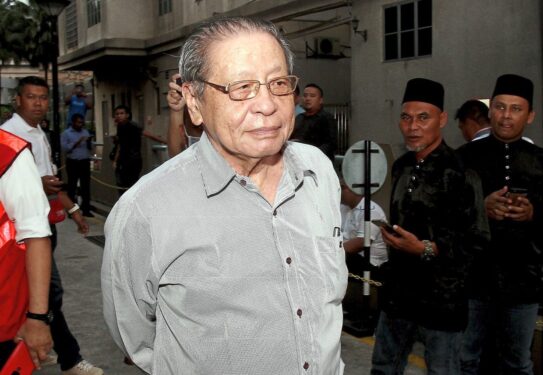 Azam had told Penang RTM's Mutiara FM radio station in a corruption awareness programme that the anti-graft enforcement agency had received 312 reports of bribe acceptance and 147 on abuse of power in Penang.
"This trend is worrying as it involves the abuse of power such as using their (civil servants) positions to award job contracts to family members or individuals who have blood relations," noted Azam.
Elaborating further, the DAP supremo also highlighted the need for Azam to furnish the statistics for other states in Malaysia and what is the time frame that he was talking about.
"How many persons have the MACC charged in court for bribery and abuse of power in Penang and what were the figures for the other states? Further, whether this refers to (agencies under) the Federal Government or the state government."
Kit Siang also urged the Parliamentary Select Committee (PSC) on Agencies under the Prime Minister's Department to call up Azam to explain and elaborate on his claims.
"The PSC on Agencies under the PM's Department has many uncompleted and new business for which an urgent meeting in the first week of the October Parliament is justified so that it could submit its first report to the Dewan Rakyat by October itself," he asserted. "There are at least six outstanding items on the MACC on the plate of the said PSC."
The items include:
Azam's conflict-of-interest in owning a vast amount of corporate equity which had not been publicly disclosed;
Azam's statement nearly two month ago that the MACC would soon announce the findings of its investigation into the failed RM9 bil contract for six littoral combatant ships (LCS) which began several years ago but nothing has happened so far;
Azam's statement in July that Transparency International (TI)'s Corruption Perception Index (CPI) does not necessarily reflect the actual corruption situation of a country and that the CPI measures the perceptions of corruption in the public sector in different countries and wasn't factual nor based on evidence;
The PSC should ask what MACC is doing to ensure that Malaysia does not lose out to Indonesia, China and India as well as more countries in the Organisation of Islamic Conference (OIC) in the TI CPI series by the end of this decade; and
Outcome of MACC investigations into individuals named in the Ultra Kirana Sdn Bhd (UKSB) ledger as disclosed during the corruption trial of UMNO president and former home minister Datuk Seri Ahmad Zahid Hamidi. – Sept 30, 2022