HAVING retired from frontline politics after 57 years will not deter veteran lawmaker and DAP supremo Lim Kit Siang to rally behind Opposition leader Datuk Seri Anwar Ibrahim in the quest to see the latter being made Malaysia's 10th Prime Minister.
In fact, the 81-year-old Iskandar Puteri MP has deemed the greatest challenge for Pakatan Harapan (PH) in the 15th General Election (GE15) on Nov 19 is whether the coalition can succeed in making the incumbent Port Dickson MP Malaysia's 10th PM.
"Although I have retired from front-line politics after 57 years, I will continue with the political struggle to make Malaysia a great world-class plural nation by Malaysia's Centennial in another four decades starting with making Anwar Malaysia's 10th PM," he penned in a speech to be delivered at the Balakong DAP Kopitiam Talk later today (Oct 22).
"I was in Ipoh Convention Centre (to attend the PH convention) on Thursday (Oct 20) night because I support the PH objective to make Anwar Malaysia's 10th PM."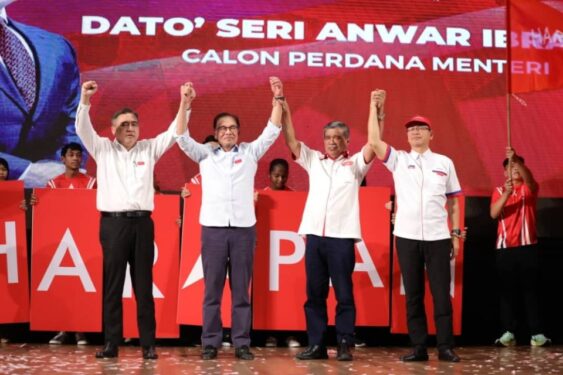 Rekindling the memory of the previous GE14, Kit Siang rallied Malaysians to believe in miracle once again as how the political tsunami that has swept through the country has unseated Barisan Nasional's (BN) domination for the first time in six decades.
"But I want to be frank today. If you had asked me on the morning of poling day of the GE14 on May 9, 2018 whether PH would topple the 61-year UMNO-led government on that day, I would say 'No'," he revealed.
"Even (Datuk Seri) Najib Razak, the PM at the time, was convinced until the close of polling that UMNO was not only certain of victory in the GE14 but of a two-thirds parliamentary majority."
But alas, while the first challenge was accomplished on May 9, 2018 "when we surprised the world that Malaysians can undergo a peaceful and democratic transition of power", such success was short-lived.
"We failed in the second challenge – to prove to the world that we can transform Malaysia from a global kleptocracy into a leading nation of integrity … and that the GE14 will result in greater freedom, more democracy, good governance and a better life for all Malaysians," regretted Kit Siang.
"After 22 months, the Sheraton Movement political conspiracy toppled the constitutional, legal and democratic PH Government. However, the political miracle of May 9, 2018 is not a complete failure – or Najib today will not be in jail."
He added: "The GE15 will decide whether we continue with the high hopes and aspirations of a Malaysian Dream for a New Malaysia on May 9, 2018 or we return to trajectory of a kleptocracy, kakistocracy and become a failed state in the next few decades."
According to Kit Siang, two questions pertinent to all Malaysians during GE15 is whether Malaysia is worth saving and "secondly, whether Malaysia can be saved".
"Malaysia has not reached the stage of a totally broken, divided and failed nation although we have fallen considerably from our expectations of a world-class great plural nation," he justified.
"We must recognise that Malaysia is in deep trouble, reflected from the value of our ringgit when we were one ringgit to one Singapore dollar 57 years ago which has devalued to S$1 to RM3.30 today." – Oct 22, 2022