THE Terengganu State PAS Youth Council (DPPNT) has submitted a report to the Malaysian Anti-Corruption Commission (MACC) to call for an investigation into UMNO president Datuk Seri Ahmad Zahid Hamidi following his graft-laced speech to win the hearts of young voters.
The council's head Mohd Harun Esa claimed that there were clear cut elements of bribery in the speech of Zahid who is also the Deputy Prime Minister (DPM) when he announced a number of allocations for Terengganu youths.
"That Zahid had said that as long as on Aug 12 Terengganu youths follow the Blue Wave (Barisan Nasional) and the Red Wave (Pakatan Harapan) during the state poll is a statement that contained elements of bribing voters," he told the media after lodging a MACC report.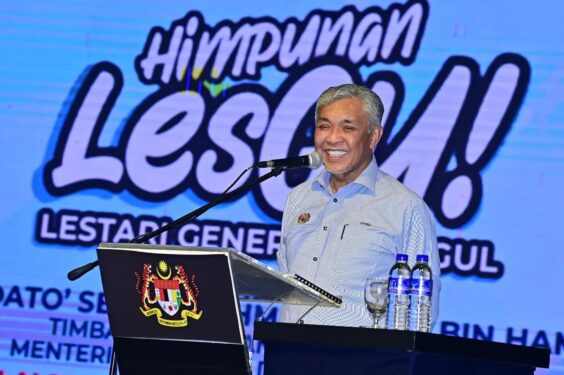 "Although there was already a statement from the MACC (by its chief commissioner Tan Si Azam Baki) denying any corruption, we feel that this warrants an investigation based on the mention of 'Blue Wave' and 'Red Wave' in addition to the stated condition of 'if PH-BN is elected on Aug 12'."
For context, Zahid had on last Friday (July 28) announced an allocation of an additional grant of RM100,000 to the Terengganu Tengah Development Board Combined Youth Association (KETENGAH), RM250,000 for the Terengganu State Youth Council and RM200,000 for the motorcycle team in the state during a ceremonial speech.
Harun further stressed that PAS Youth has no objection about the Federal government wanting to render financial assistance "but this is a bit strange because it was offered just before the election and after the dissolution of the state assembly".
"We are disappointed that the aid given by the Terengganu government in the last election was slandered as bribery even though it was announced in the budget, hence different from what has happened today."
Recall that the election court in Kuala Terengganu had on June 27 nullified the victory of PAS MP Datuk Ahmad Amzad Hashim for the Kuala Terengganu parliamentary seat in the 15th general election (GE15) following the existence of bribery from the distribution of financial aid from the state government via the i-Belia and i-Student initiatives prior to GE15. – July 31, 2023