THAT "a rose by any other name would smell as sweet" – to borrow the popular adage from William Shakespeare's play Romeo and Juliet – best described the Sumbangan Tunai Rahmah (STR) (literally, Rahmah Cash Contribution) that will be doled out from today to assist 8.7 million Malaysians in the B40 category to cope with escalation of living cost.
Prime Minister (PM) Datuk Seri Anwar Ibrahim announced yesterday (Jan 16) that payment of phase one of the STR worth RM1.67 bil will be credited into the accounts of registered recipients in stages.
This can be described as 'summer-come-early' for the recipients given the disbursement been brought forward to January from the initial plan in March.
Interestingly, STR has its origin in the Bantuan Rakyat 1Malaysia (BR1M) which was the brainchild of now incarcerated ex-premier Datuk Seri Najib Razak.
Bank Negara Malaysia (BNM) first mooted the idea of BR1M to the Najib administration in March 2011 with the inaugural disbursement kickstarted in phases from January to March 2012 in the form of vouchers.
The goal of BR1M back then was to provide direct and targeted help to low-income groups to ease their financial pressures due to subsidy rationalisation.
During Tun Dr Mahathir Mohamad's second tenure as PM which coincided with Pakatan Harapan's short-lived administration (22 months), BR1M was re-named as Bantuan Sara Hidup (BSH) scheme during the tabling of Budget 2019.
Its primary aim of helping to ease living cost of the B40 community remained unscathed despite Dr Mahathir had once mentioned that the quantum of payout (with reference to BR1M) would be reduced gradually before "the scheme ceases to exist in the near future".
"I always talk about the walking stick. Throw away your crutches, walk on your own two feet. Only then will you be strong and you will be better," Dr Mahathir had justified about phasing out BR1M at one stage. "If you only bribe the people, they will become weak."
To cut a long story short, the financial aid went through yet a few 'name evolution' during the tenure of the 'backdoor' administrations of Tan Sri Munyiddin Yassin and Datuk Seri Ismail Sabri Yaakob – from Bantuan Prihatin Rakyat (2021) to Bantuan Khas COVID-19 (2021), Bantuan Prihatin Nasional (2021) and finally, Bantuan Keluarga Malaysia (2022).
What the STR entails
Very much like its 'predecessors', the STR payment is made according to categories with four million households receiving RM300 each while 1.2 million senior citizens without spouses and 3.5 million single individuals would each receive RM100.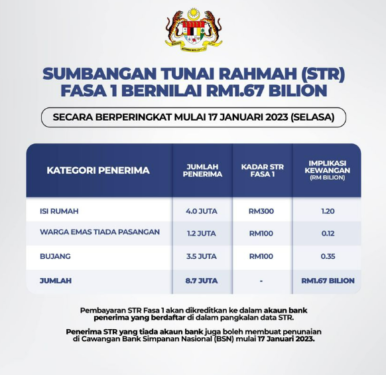 "STR recipients in rural areas including Sabah and Sarawak – with or without bank accounts – will also receive this payment on the same date," PM Anwar who is also the Finance Minister pointed out in a statement.
He further noted that recipients who do not have a bank account can cash the payment out at Bank Simpanan Nasional (BSN) branches beginning today.
Recipients can check their status from today and further information regarding the payment is available at the frequently asked questions (FAQ) section of STR's official portal.
Meanwhile, Bernama cited Anwar as saying that the STR is a re-branding of the cash aid programme for the B40 income group under the Finance Ministry, and that it will continue to be improved.
He went on to explain that the unity government emphasises the rahmah (compassion) approach in looking after the plight of the needy, especially the vulnerable groups.
As such, the PM said the government introduced the Payung Rahmah concept as a parent to the various initiatives to help such groups face challenges pertaining to high living cost. – Jan 17, 2023