"IF you eat the right food, you will feel energised." That's one of the many interesting quotes from international renowned healthy eating celebrity chef Daniel Green.
Born in London, Green grew up as an obese teenager with a 38-inch waist. He decided to experiment on healthier ways to prepare food and over a period of three years, he managed to lose 65 pounds (29kb) without having to hit the gym.
Since then, he had transformed menus in the US, UK and Asia and was commissioned by airlines and hotels. He even had his own TV shows, including that on The Food Network, Discovery Health and BBC UK.
It is an honour for me to be able to have an up close and personal encounter with Green about healthy eating. Our interview took place at Isetan Kuala Lumpur during the launch of the ninth anniversary of Tasty Australia, the biggest Australian food festival in Malaysia (July 22-Aug 3).
Green was also in Malaysia to receive the International Celebrity Chef Award 2022 in the Eating-For-Health category of the World Top Gourmet Award 2022.
Q: How did you become a Chef? Was it by chance or your interest long ago?
Green: Many reasons. I love food and very much wanted to lose weight. And I decided to make food that suited me. I never knew it could be a career. I never knew what it could be like in front of the camera.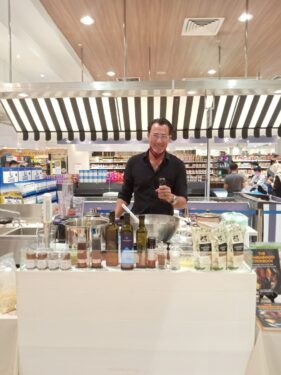 But I think that is the reason I thought it could be an interesting move to show people what worked for me in food. There are many reasons but I think travel has the biggest influence. Those days of my travels to Thailand and Malaysia in the early 1990s were fascinating; those food that we came across weren't available in London, so we created it and that's what made it interesting.
Q: How do you find Malaysia? How many times have you been here?
Green: I think I've been in Malaysia for about 28 times. The first time was in 1993. Maybe 1991. I just love the whole of Southeast Asia. The food here are always exciting and changing. The hotels are always revamping. I did some dinner shows and I still remember I stayed in Carcosa Seri Negara. It was a hotel back then and it was like staying in a palace. I was here to do a TV show.
Q: Have you tried cooking any Malaysian food?
Green: I wish I could say I have done more and the one I know best is satay. I love satay. I would love to do chilli crab if I could.
Q: How do you find Tasty Australia now compared to last time?
Green: Oh, I love Isetan Kuala Lumpur. It is a brilliant store. And I think my favourite ingredient is the truffle. It keeps changing all the time. Australian food is fantastic. So pure and lovely. It reminds me of Italy.
Q: Can you tell us more about your latest book (The Cannabinoid Cookbook: Transform Your Health Using Herbs and Spices from Your Kitchen)?
Green: It's all about using spices and how they can help you to relax and work on your endocannabinoid system. That sounds a long word but I worked with the doctor and I found out how these ingredients are rich in cannabinoids. This helps the body distressing sleep. Ingredients such as turmeric, truffles, cinnamon, black pepper and cacao are fascinating.
Q: Have you tried our spices in Malaysia?
Green: Yes, the spices here are really spicy. I do love how intense some of the local flavours are.
Q: As a healthy eating expert, what is the best advice you have there for Malaysians to cook healthy and stay healthy?
Green: After doing two cookbooks on the Paleo diet, you can now have coconut milk. It's a superfood and Malaysian food is rich in it.
Q: What's next for you? Your upcoming project?
Green: Searching the globe to bring some food to a new TV show in the US. I am always planning my next cookbook as that will be number 14. And hopefully a project here in Malaysia. – July 31, 2022
Francis Yip is an award-winning writer and HRDF (Human Resource Development Fund)-accredited Trainer. He is also the CEO of Franciswriter Dot Com and guest lecturer in The One Academy.
The views expressed are solely of the author and do not necessarily reflect those of Focus Malaysia.