DECRYING the fate of non-Bumiputera Malaysians who have been treated indifferently by the powers that be, the National Patriots Association (PATRIOT) has urged all Malaysians who are eligible to vote to exercise their patriotic commitment towards building a colour-blind nation.
"Why then are the non-Bumiputeras looked upon differently over these past 60 years?" asked president of the ex-servicemen body Retired Brigadier General Datuk Mohamed Arshad Raji.
"Like many caring, concerned people, PATRIOT believes that the ethnic minorities in the country have been victimised by political leaders who are bent on playing the race and religion card to remain in power with their ketuanan Melayu (Malay supremacist) rhetoric."
"What they have done all these years to the non-Bumiputeras is oppressive and cruel," added Arshad.
He said the 15th General Election (GE15) is the best avenue to show politicians who lack moral grounds the exit door while enabling voters to usher in a corrupt-free and people-centred new Government.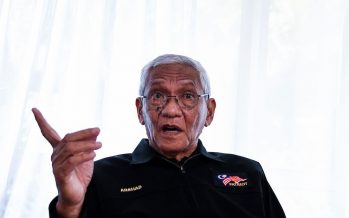 "Many of us in PATRIOT are in our sixties and seventies, if not early eighties. We are made up of Malay, Muslims and ethnic minorities. Many of our members also served in the forces, defending our beloved nation from harm," recalled Arshad.
"PATRIOT wishes to reiterate our decades of sacrifices in serving the nation well so that the people, rulers and visitors enjoy the peace, progress and wealth that Malaysia offers.
"As soldiers, we learnt to live and work harmoniously as brothers-in-arms, irrespective of our ethnicity and religious beliefs. We were colour blind. We shared our pains and happiness together."
Arshad also stressed the need to vote out politicians who are incompetent, untrustworthy and lacking in moral standards.
"What is most alarming is these corrupt individuals are not just little Napoleons but senior party leaders. Mind you, they are top party leaders with their hands deep into the wealth of this nation, grabbing what rightfully belongs to all of us and depriving our beloved nation of its future well-being," he argued.
"In fact, even the current UMNO President (Datuk Seri Ahmad Zahid Hamidi) recently and unashamedly alluded to this publicly. Pray that there will be a time when the law will eventually catch up with them." – Oct 17, 2022
Main photo credit: Transparency International