Editor's note: Perhaps, it is best that the unity government refrain itself from rendering public services without salaries or any form of remuneration for that matter given it is common sense that there is "no free meal" in today's world.
Associating volunteerism with politics can only raise doubts and spark controversies or to cite veteran journalist and blogger Datuk A. Kadir Jasin, "A salary is a right. Paying a salary is a must. Volunteering is rewarding. But what about the official secret issue?"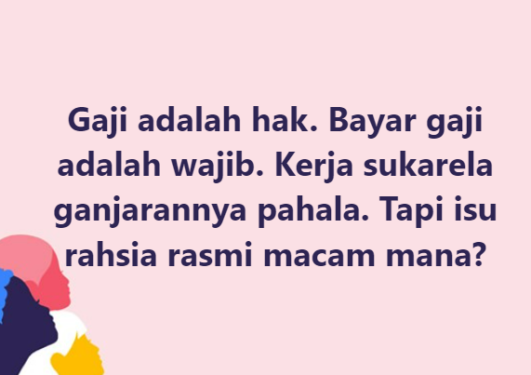 As the main pic depicts, both Prime Minister Datuk Seri Anwar Ibrahim and daughter Nurul Izzah who was recently appointed as his senior economy/finance adviser deserve to be remunerated for working their hearts out over the weekend.
Moreover, the Tambun MP himself was unwell and even had to skip yesterday's Thaipusam celebration in Batu Caves in lieu of a health check at the National Heart Institute (IJN) where thankfully, he was rendered a clean bill of health upon examination.
Letter to editor
THE Oxford English dictionary defines nepotism" as "giving unfair advantages to your own family if you are in a position of power, especially by giving them jobs".
As stated by the accepted authority on the English language, I think the definition of "nepotism" cannot be clearer.
There is no mention of salaries, corruption, abuse, or misuse of power or qualification and expertise by those appointed by their relatives in power.
Unfortunately, the term nepotism is now being given a new definition by Malaysia's newly-minted unity government.
Those in power have appointed their children into positions with the justification that they are not going to abuse or misuse their roles and are not corrupted, and thus, this type of nepotism is allowed and should not be questioned. Furthermore, they are apparently highly qualified.
If this is how nepotism is defined today in the country, then will it be an offence anymore if people in power within the civil service start dishing out contracts and jobs to their relatives now?
They only need to justify that those relatives awarded government jobs and contracts are highly qualified, will not abuse the process, and are not corrupted.
As we know, whether a salary is paid or not, nepotism could now be re-defined from different angles, and possibly the aspect of nepotism could be so stretched that eventually it will no longer be possible to nab anybody abusing the newly defined philosophy of practicing nepotism.
Prime Minister Datuk Seri Anwar Ibrahim is riding on very thin ice with his recent definition of nepotism could backfire on his entire government.
Anwar and the team should make themselves busy fighting for the big issues plaguing the country instead of wasting time and energy firefighting self-made controversies.
We, as voters, do not see the essence of him appointing his daughter (Nurul Izzah) as an adviser to him.
This is high time Anwar realises that he is no longer an opposition leader, and thus, each move he makes must be thoroughly considered and not emotionally driven.
Narinder Pal Singh is Warisan's Selangor and Kuala Lumpur communication chief.
The views expressed are solely of the author and do not necessarily reflect those of Focus Malaysia.
Main pic view: Datuk Seri Anwar Ibrahim's Facebook