THE public and politicians took to social media to vent out against Malaysia's special envoys to foreign countries, apparently enjoying various perks without even travelling for official visits.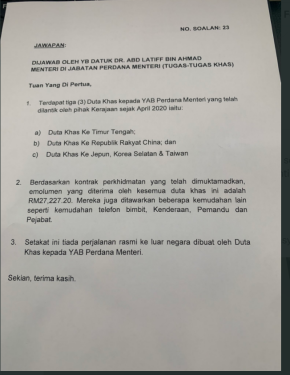 (Nice. You get paid RM27,000 monthly, mobile phone and a driver but never having to travel to foreign countries. What do we call this situation?) 
Responding to Syahredzan's statement, Segambut MP Hannah Yeoh retorted: "Gaji buta" (Getting paid for not working)  

User Krishna added: "Sudah tiba masa semua YB PH made a United stand to end these wastages. Do something to get the message across to all Malaysians." 

Yesterday, Minister in the Prime Minister's Department Datuk Abdul Latif Ahmad told the Dewan Rakyat that there are three special envoys appointed by the Government as of now, which are Special Envoy to the Middle East (Tan Sri Abdul Hadi Awang), Special Envoy to China (Datuk Seri Tiong King Sing) and Special Envoy to East Asia (Datuk Seri Richard Riot).  
In terms of emoluments and perks, special envoys receive a salary of RM27, 227.20 monthly, on top other perks such as handphones, official vehicles, drivers and office spaces.  
However, the minister confirmed that none of them have made any official visits to foreign countries as of now.  
It is to note that Prime Minister Datuk Seri Ismail Sabri Yaakob had appointed MIC president Tan Sri SA Vigneswaran as Special Envoy to South Asia last month and it was not mentioned in the parliamentary reply.  
It's the pandemic! 
However, several netizens defended the special envoys' lack of official visits as the world was suffering from COVID-19.  

(When they don't go out, you scold them but when they do, you will get angry as the pandemic is still raging now. If a cluster appears, you will accuse the politician of not having any heart and accuse them of travelling when the pandemic is on-going)  
User Hanafi Ibrahim remarked: 

(If we can conduct online classes, don't tell me the special envoys can't do their work virtually too. Are they getting paid for nothing or are you blind?) – Nov 3, 2021.