AMID criticism for wearing a headscarf during a visit to a mosque, DAP MP Hannah Yeoh reminded her naysayers that one should respect Malaysia's diversity, which is the nation's strength.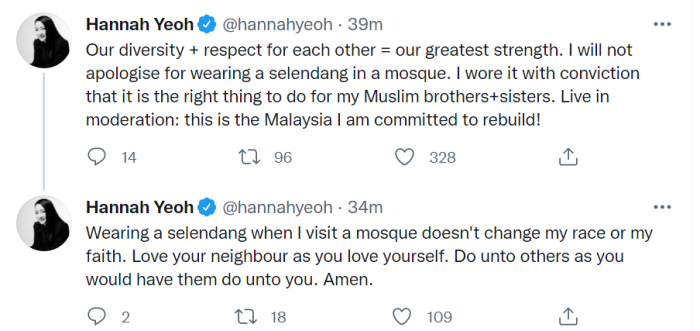 Earlier today, Malaysiakini reported that in a leaked Whatsapp communication, Johor DAP committee member Dr Boo Cheng Hau had criticised Yeoh for the move.
"Maybe all of our women reps should wear the hijab not only in mosques but all over in public markets, churches, schools and so on.
"Best still, all should convert to Islam. Then we will be ensured to win Putrajaya in the next general election. What say you smart dudes?" the former state party chief was reported asking.
Respect one another
Yeoh's move was also mocked by Universiti Utara Malaysia (UUM) political analyst Kamarul Zaman Yusoff who said that there was nothing surprising about Yeoh's action.
"What is puzzling to me is that no one was complaining about Yeoh preaching in churches. Bear in mind that in her autobiography, she had admitted of wanting to become a Christian preacher.
"But she joined politics as it will give her more avenue to preach Christianity in churches and other platforms," the academic was reported saying in a Facebook post.
On that note, Yeoh told her critics that donning a selendang during a visit to a mosque would neither change her race or religion for that matter.
"Wearing a selendang when I visit a mosque doesn't change my race or my faith. Love your neighbour as you love yourself. Do unto others as you would have them do unto you. Amen," she mentioned. – Dec 4, 2021